By Steven Viera || Managing Editor
  Last Tuesday, March 31, in Weis College House, the Diplomatic Congress (DipCon) hosted the latest event in its F&M Forums series. The forum focused on alcohol use and F&M's alcohol culture, opening a dialogue between students and administrators on possible causes, symptoms, and solutions to the issue.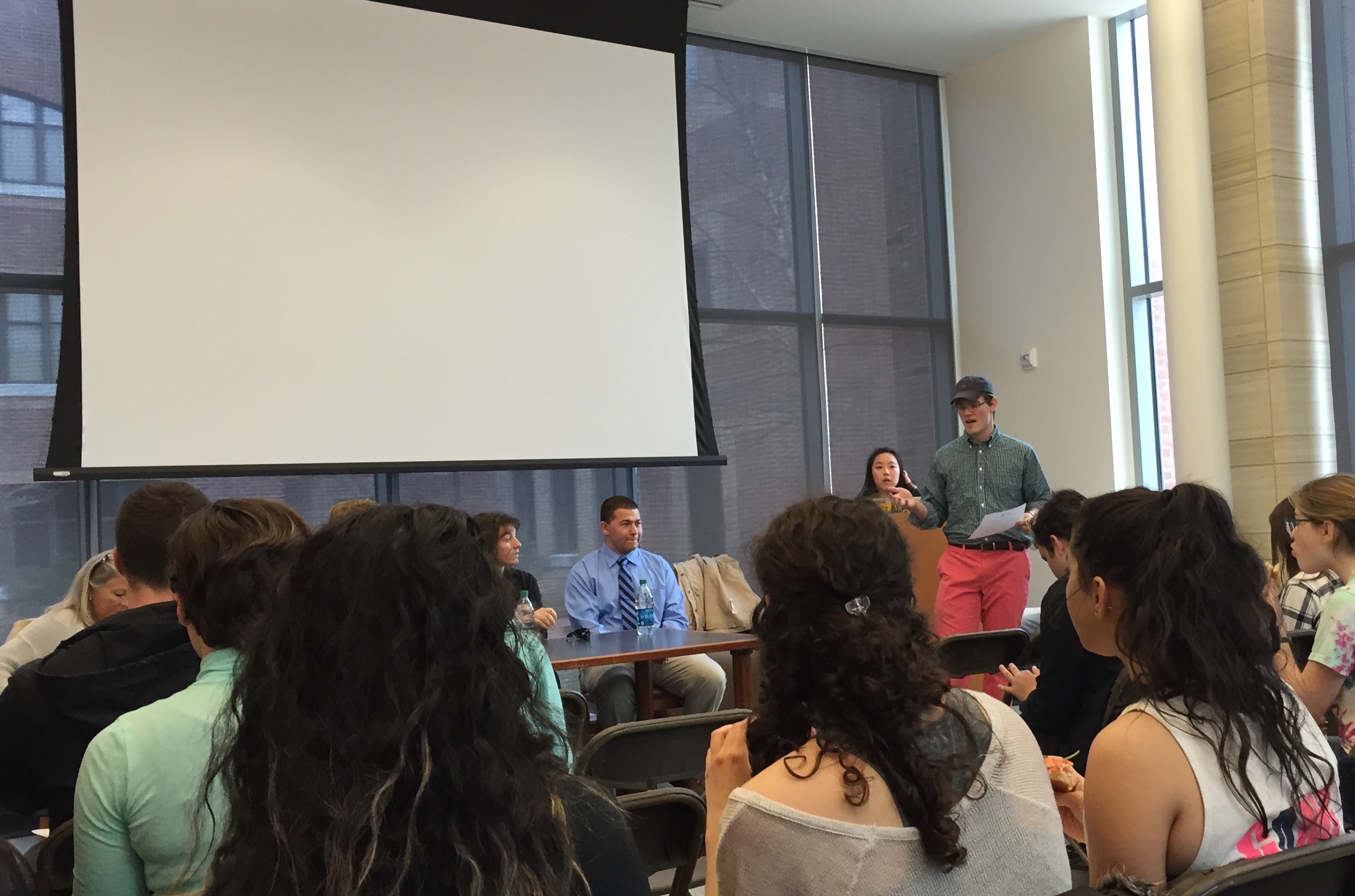 Nd Epka '15 began the forum with a presentation of data on alcohol use on campus which examined such variables as how many drinks students consume per week, per event, how many hours they spend drinking at parties, and the number of days per week they drink. The study also had drinking data for students based on their affiliations — such as involvement in athletics or Greek organizations —  and evaluated social pressure and other external factors that prompt students to binge drink. Ultimately, the data show that a student's perception of how much his or her peers drink, not affiliations, is the most significant influence on drinking habits; the study pointed out that, if students perceives rates of binge drinking to be high, they are 3.2 times more likely to binge.
     Following Epka, four panelists were introduced: Margaret Hazlett, dean of the College; Suzanna Richter, dean of New College House; Kathy Ham, assistant to the director of Athletics & Recreation; and Dan Levin '16, a member of F&M EMS. Each panelist spoke briefly about his or her role and experiences relative to alcohol use on campus.
     "The panelists were selected accordingly because we thought that it would give a diverse representation of the different groups on campus that are working on issues that are related to alcohol," said Grace Jeong '15, DipCon's health and wellness chair. "Whether that would be directly with the students, in the case for EMS on nights and weekends, and kind of indirectly, after the event has occurred, via Hazlett, Richter, and Ham."
     After the panelists' remarks, students in attendance had the opportunity to ask questions and prompt discussion. Questions included the functions of the amnesty policy, the role of Greek organizations, details about the forthcoming alcohol policy, and more. Although he was not a panelist, Keely Johnston, crime prevention officer for the Department of Public Safety (DPS), helped answer questions from his position in the audience.
     Jeong expressed a hope that students realize the administration and Alcohol Policy Working Group are working hard to create a safe, fun environment that allows for alcohol to be present.
"We hope to continue the conversation next academic year, most likely after the alcohol policy gets released," Jeong said. "We hope that creating a space for students to ask any questions or share their concerns will be an opportunity for administration to take students' thoughts into consideration."
Junior Steven Viera is the Managing Editor. His email is sviera@fandm.edu.