By Ashley Little || Contributing Writer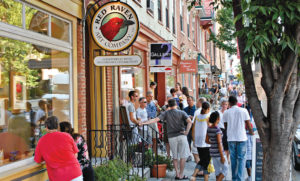 Picture yourself on the streets of Lancaster, excited by the possibility of discovering new things and learning some local history.
This type of excitement marks First Friday celebrations during the first Friday of every month, a recurring event with unique, engaging opportunities not offered regularly in Lancaster City.
When visiting Downtown Lancaster during the First Friday celebration, one can find stores, tents, tables, and musicians central to North Prince and North Queen Streets. Conveniently located within a ten-minute walk from Franklin & Marshall College, F&M students find this location to be convenient and bustling.
Given the large number of stores on this stretch, however, it can be difficult to experience all of the options. This article will serve as your map to First Fridays in Lancaster City, identifying must-see stores, restaurants and art galleries that each offer something different for your next trip downtown.
3 Must-See Clothing Stops:
Hipster: Primitive Threads, located on North Street, may have particular appeal to those who enjoy more traditional college clothing styles. Primitive Threads features brand products from stores such as Vans, PacSun, and other clothing brands that target teenagers. Its products are discounted and often convey a worn or weathered look.
Vintage: Downtown features quite a few vintage clothing stores, with each displaying unique varieties. Options may feature untraditional, wild apparel or even famous fashion brands. Try out Sophie Stargazer or even Realm & Reason on West King Street.
Thrift: While Downtown Lancaster offers the standard second-hand shops with discounted clothing, it also offers interesting spins on thrift stores. Some of the thrift stores feature name-brand clothing at huge discounts, while others feature organically-produced clothing made from materials from around the world.
Art, Design & Handcraft Shops:
Exclusive to First Friday: keep an eye out for pop up shops featuring personally-crafted jewelry made with gemstones, handmade home goods, and other accessories. First Friday is a busy time for art galleries, in particular. During the celebration, galleries offer sales and additional displays you won't be able to find on any other day.
Year round: Stores may offer unique glassware, plants, decorations, or unique cultural products produced by people from all over the world. The "Gem Dem" is one example, a jewelry store which allows customers to create their own jewelry with beads, stones, crystals, and more.
Apart from the exceptional artwork, innovation, authentic stores, and music presentations, First Friday offers the chance to see a bustling community coming together and creating connections.
The greatest appeal of First Friday is being able to see this community express itself through artwork, products, and performances. After having a conversation with a self-made artist who consistently displays her work at First Friday celebrations, one takeaway is certain: the dedication to community success here is undeniable.
First-year Ashley Little is a contributing writer. Her email is alittle@fandm.edu.