By Caroline Martin || Contributing Writer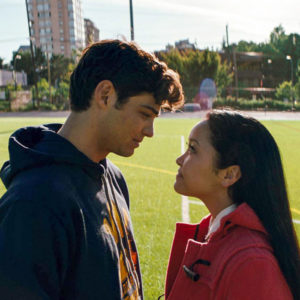 To All the Boys I've Loved Before broke out on the Netflix scene only one month ago, generating quite a lot of buzz in this short period of time. Based on the bestselling young adult book by Jenny Han, the film adaptation is directed by Susan Johnson and stars Lana Condor as Lara Jean Covey, Noah Centineo as Peter Kavinsky, and Israel Broussard as Josh Sanderson.
The film begins with Lara Jean crushing on childhood friend and neighbor, Josh Sanderson. Josh, however, is off limits since he is soon to be the ex-boyfriend of Lara Jean's sister, Margot, who is leaving for college in Scotland.
Instead of telling anyone, including Margot, about her secret crush, Lara Jean writes letters confessing her love and keeps them hidden in a box in her room. In total, there are five letters, including one to Josh Sanderson and one to Peter Kavinsky, the popular boys at school. Unfortunately, someone steals them and mails them all out to the boys addressed in the letters, leaving her in a frightened frenzy. In order for Lara Jean to convince her sister's ex, Josh, that she doesn't like him, she finds herself in a fake relationship with Peter Kavinsky, the jock of the school who wants to make his ex-girlfriend, Genevieve, jealous.
Right off the bat, it's clear that To All the Boys I've Loved Before is a romantic comedy whose targeted audience is teenage girls. There are certain aspects such as the high school setting, the drop-dead gorgeous boy and the obnoxiously pretty bully which are often seen in other young adult romantic comedies. Unfortunately, this also makes the plot very predictable.
Lana Condor's awkward portrayal of Lara Jean Covey is embarrassingly realistic. Covey is depicted as antisocial, insecure, and a terribly lousy driver. Perhaps the issue with Lara Jean's character is how her personality completely changes after (fake) dating Peter.
This change gives the impression that Covey needs a boy to make her happy, which is not a message that should be directed towards an audience of predominantly teenage girls. More emotional character development with Lara Jean as her relationship with Peter progressed would have gone a long way in the development of this story.
Peter Kavinsky, played by heartthrob Noah Centineo who is becoming an overnight celebrity, is the classic stereotypical male teenager found in every young adult romantic comedy ever. Peter loves sports, has a sarcastic sense of humor, is a good student that comes from a broken home and is ultimately very attractive. To many people, he is the epitome of a perfect boyfriend, besides basically using Lara Jean to get the attention of his ex. Peter never pressures Lara Jean, as their first rule of the fake relationship is "no kissing," and he regularly expresses his sensitive, emotional side with her.
Throughout the film Lara Jean and Peter have many angsty moments, making it obvious both of them actually like each other. At times, it becomes frustrating that the characters are entirely oblivious to their strong feelings toward each other.
On a more serious note, the lack of representation is an issue unfortunately too prevalent in our society's movies and television shows. To All the Boys I've Loved Before attempts to break away from the typical movie casting mold. It was pleasant seeing Lana Condor, an Asian American actress, play the lead role of Lara Jean, as it added diversity to on-screen acting. On the contrast, the casting of Lara Jean's older and younger sister, Margot (Janel Parrish) and Kitty (Anna Cathcart), did not provide an accurate representation, as they appeared whitewashed and nothing alike.
Besides the somewhat cringe-worthy quotes, To All the Boys I've Loved Before has its funny and swoon-worthy moments but, as expected, it stays within the romantic comedy construct. This perfected formula is perhaps one of the reasons why To All the Boys I've Loved Before is such a big success. On the internet, fans rave about the movie while rumors circulate about the possible film adaptation of the book's sequel, P.S. I Still Love You.
Overall, To All the Boys I've Loved Before is a reasonably entertaining movie for romantic comedy lovers and people who like a dramatic, angst-ridden film. This movie reminds us how dominate the world of Netflix is and how forms of entertainment have dramatically changed over the years to include movies and television shows streamed online.
First-year Caroline Martin is a contributing writer. Her email is cmartin9@fandm.edu.