By KT Thomas || Satirical Columnist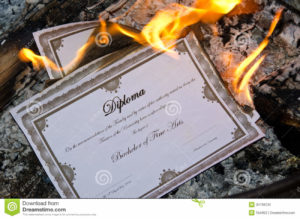 Recent Philosophy grad burns diploma in a statement to prove that he truly knows nothing
Just moments after 500 caps soared into the air, panic spread through the crowd at Franklin & Marshall College's 2017 Commencement ceremony as a dazed John Kerrigan stood by his classmates clutching a flaming diploma.
This mayhem unfolded just minutes after the President of the College gave an eloquent address to the graduating class stating, "The certificates you all hold in your hands are reminders of the knowledge you've all gained in these last four years. Now go forth into the world and share it, so that someday all those who surround you will know as much as you."
Ben Dunbar, Kerrigan's roommate recounts, "I don't know, man. He just burst into tears when he heard that. Haven't seen him cry like that since his Bukowski phase."
When asked about the incident, Kerrigan's parents seemed upset, but not shocked, claiming they saw it coming when his yearbook quote was, "Socrates was right."
Senior Kt Thomas is a satirical columnist. Her email is kthomas@fandm.edu.