By Rohail Spear | | Arts and Leisure Editor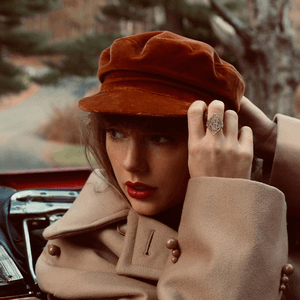 "All's well that ends well," Taylor sings in "All Too Well (10 Minute Version) (Taylor's Version) (From The Vault)," and sure enough, Taylor turned one of her most publicized, painful breakups into a masterpiece of an album. Red (Taylor's Version) rockets you through one of the most tumultuous relationships that has ever existed, it seems, and then swings back around and beats you while you're down until you are well and truly sobbing uncontrollably in the refrigerator light at 2am. 
"All Too Well (10 Minute Version) (Taylor's Version) (From The Vault)" will meet your expectations, then fly right by them. Twice as long as the original, this synth-pop rendition adds several new verses and takes its time as it builds and builds and builds… and builds until you're either pounding your fists and screaming along with Swift or sitting there with full body chills and a hand over your mouth, as I did. Backup vocals drive Swift's "I remember it" lines home until you really will remember them; new lines such as "You kept me like a secret, but I kept you like an oath" slam into you like a wrecking ball; the way that she sings with knives in her voice during the line "And you call me up again just to break me like a promise" cuts deep; the smooth outro leaves you to reflect on and process what the fuck just happened. Let me put it this way: this song is so good that it inspired several memes advocating for Jake Gyllenhaal's life-sentence in prison for the crimes he has committed.
In "Better Man," another highlight, Swift swoons about the complexity of leaving someone "who could change their mind at any given minute" and who "push[ed] [her] love away like it was some kind of loaded gun," but who she still feels again "sometimes, in the middle of the night." Everything from the gorgeous melody to the country-rock production to her warm vocals work.
The Vault tracks-tracks that did not make the original album-are catchy enough to have been on the original: "Message in a Bottle" belongs on the radio in a retail store and "The Very First Night" is the kind of pop song that gets annoying after a few listens. "Nothing New," featuring Phoebe Bridgers, is a simple, stripped-down gem where Swift wonders, "How can a person know everything at 18 / and nothing at 22?" Bridgers's voice is soft and vulnerable, giving the song an indie feel and fitting its theme of insecurity perfectly. "Run" featuring Ed Sheeran is another soothing song with a simple guitar backing Swift and Sheeran's complimentary vocals.
For the most part, the tracks that were on the original album sound brighter and clearer on Red (Taylor's Version). "Come Back…Be Here" in particular moves with more energy and power than the original. Gary Lightbody's vocals on "The Last Time" are richer and mesh beautifully with Swift's breathy tones. "Girl At Home," on the other hand, sounds like it was recorded underwater. It has turned into a strange electronic-disco remix of an otherwise decent song. I'm not sure what Swift was thinking, but seeing as the rest of the album is so damn good, I'll give her a pass.
Clocking in at 2 hours and 10 minutes, Red (Taylor's Version) is the perfect autumnal album for a long car ride, if you don't mind that one Swiftie friend of yours screaming along. It's a rollercoaster, and a messy one at that, but if you just listen she'll make you feel things she hasn't felt since Jake turned out to be The Worst Boyfriend Of All Time (oops).
Sophomore Rohail Spear is the Arts and Leisure Editor. His email is rspear@fandm.edu.