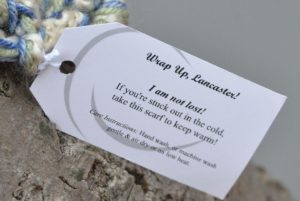 By Abigail Sokolsky || Arts & Leisure Editor
Lancaster City is an ever-growing destination. More and more art galleries, restaurants, shows and musical performances appear every year, earning Lancaster City its reputation as a burgeoning destination for lovers of the arts. Gallery Row remains a point of Lancaster pride, boasting a number of galleries dedicated to the promotion of local talent. Ranging from more traditional fine art at galleries like Lancaster Galleries on North Water Street to less formal showings like the Peace Kids to the Rescue show this past September, Lancaster lays claim to an art presence with something for viewers of all tastes and ages. Creatively Lancaster's Makers Market as well as the Pennsylvania Guild of Craftsmen additionally offer opportunities for local craftsmen to sell their work while celebrating and encouraging creativity in the community. It is no wonder then that Lancaster is the birthplace of a nonprofit that is equal parts craft, art and philanthropy in this unique and vibrant artistic climate.
The Wrap Up! Project suits this environment of artistic innovation and community support. Founded by Angelia Reed in 2014, The Wrap Up! Project is a group of anonymous fiber craftsmen (knitters, crocheters, sewers, and the like) who create and donate handmade items to anyone in need. How they do it? By taking handmade scarves and leaving them in public spaces like parks along with a tag explaining their purpose: ""I am not lost!' If you're stuck out in the cold, take this hand-made item to keep warm! From Wrap Up Lancaster!" This practice of leaving a park or square adorned with scarves is labelled scarf-bombing by their website along with an explanation of their choice to provide handmade rather than commercial items. "Handmade items are made with intention," their website explains. "They offer warmth, comfort, and hope to the recipient; they're like a hug. They let the recipients know that someone cares," a message that many recipients without access to warm clothing doubtless appreciate in the winter months.
While Angelia Reed reveals in an article in Revelo magazine that she owes her inspiration for the Lancaster yarn-bombing movement to a story on Facebook about a Canadian woman who would leave scarves on statues, the yarn-bombing movement extends much further. Yarn bombing has popped up in a number of places, most notably including work by artist Magda Sayeg in Mexico City. Yarn-bombing can take many forms, an artistic versatility well demonstrated by Sayeg's clothing of statues, covering of tanks and enmeshing of city busses. Magda Sayeg's work with yarn as an artistic medium and her utilization of everyday structures is popularly credited as the start of a movement often referred to as guerrilla knitting. Thus Angelia Reed's work can be considered an extension of this guerilla knitting movement, a socially conscious application of an art form that originates far from Lancaster, Pennsylvania.
Senior Abigail Sokolsky is the Arts & Leisure Editor. Her email is asokolsk@fandm.edu.