BY ALANNA KOEHLER '15
Campus Life Editor
Sexual Assault Violence Education (SAVE) and the Alice Drum Women's Center presented the 16th annual Take Back the Night in the Steinman College Center Tuesday.
[image_frame style="border" height="300″ width="200″ align="left"]
[/image_frame]
"One in four college women will experience sexual assault during her college experience," said Michelle Carroll '13, organizer of Take Back the Night and president of SAVE. "One in 33 men will experience sexual assault in his lifetime, and one in six women will experience sexual assault between the ages of 18 and 30. A lot of victims and survivors feel uncomfortable talking about their experiences. How do you bring that up in conversation? It's very difficult; Take Back the Night is a really unique event where the community can come together and break the silence."
The program included opening remarks by Carroll, Jan Masland, director of F&M's Sexual Assault Services, members of the Women's Center Executive Board, and Beth Graybill, director of the Women's Center and adjunct assistant professor of women's and gender studies.
[image_frame style="border" height="200″ width="300″ align="right"]
[/image_frame]
Dan Porterfield, president of the College and last year's Take Back the Night keynote speaker, sent an email about the event to the entire student body and submitted remarks to be read on his behalf, as he regretfully could not attend this year's event.
"It is a great privilege to be trusted as a witness, and with that comes great responsibility," Porterfield wrote about his experiences as a mentor for young women who have been victims of sexual assault. "Respect for the survivor, confidentiality, and a readiness to prevent sexual assault and its causes can thereby let the survivor know that a meaningful change has happened because he or she had the courage to share their experience."
[image_frame style="border" height="300″ width="200″ align="left"]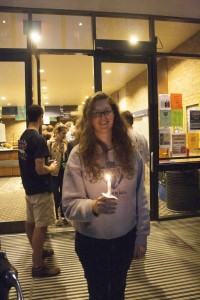 [/image_frame]
Nineteen-year-old Grace Brown then delivered a brief speech about her photography project entitled Project Unbreakable. Brown photographs survivors of sexual abuse holding posters with quotes from the people who victimized them.
"When survivors tell their stories, they rarely say what was said to them," Brown said.
Brown designed the project to create awareness for the large number of people affected by this issue and to help victims heal.
"The point of the project is to take back the words that were used against them, to become empowered, to break the silence, to tell the world, 'These words were said to me, and they are not okay,'" Carroll said about Brown's work.
Graybill revealed the extent of Brown's success with her project.
"[Brown] started her website in October, and it's averaging about 5,000 hits a day," Graybill said.
The keynote speaker for the evening was Reverend Becca Stevens, founder of Magdalene and Thistle Farms in Tennessee and author of eight books. Stevens is an Episcopal priest who began Magdalene as a residence for recovering women and Thistle Farms as a form of employment for residents and graduates. The women at Thistle Farms make and sell all-natural bath and beauty products sold in more than 200 retail stores all over the world. They find healing and self-worth in making these natural, soothing products. Stevens was recognized as a "Champion of Change" by the White House in 2011 for her incredible work.
Stevens' speech was preceded by a very personal presentation by Phyllis Curtis, a sexual violence victim and a Magdalene graduate.
[image_frame style="border" height="200″ width="300″ align="right"]
[/image_frame]
"One person can make a difference," Curtis said, referring to Stevens. "There is healing, love, and joy for everyone. If I get a little emotional it's not because I'm hurt, it's because I'm happy. Tears of joy."
Curtis told her touching tale, sharing her story of victimization and the downward spiral she fell into until she found Magdalene and began to receive help.
"I went from being a victim to a perpetrator," Curtis explained. That, however, was remedied when she sought help. "Please find someone to talk to. Love is here, and it's all around."
Stevens' keynote speech continued to send a message of hope and love. She explained her difficult childhood and how that led her to begin Magdalene and Thistle Farms in order to help women heal.
"We [at Magdalene and Thistle Farms] are a drop in the bucket," Stevens said. "And, honestly, what you're doing here tonight is a drop in the bucket. One tiny, beautiful drop that can make all the difference. All the drops that all of us are contributing are enough to help change the course of the river of violence that we encounter.
"Thank God for all our small drops," Stevens added. "This is a night to celebrate that we are together in making a whole bucket of change."
[image_frame style="border" height="200″ width="300″ align="left"]
[/image_frame]
Sweet Ophelia, F&M's female a cappella group, then performed two selections for the audience before a solemn candlelight vigil processed to the Ware College House Great Room for victim and survivor testimonials and a closing water ceremony by Susan Minasian, college chaplain. Refreshments were provided by the Greek organizations Kappa Delta, Chi Omega, Alpha Phi, and Alpha Delta Pi after the program.
Carroll shared her support for the testimonial portion of the night.
[image_frame style="border" height="300″ width="200″ align="right"]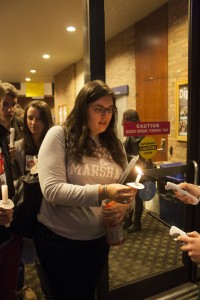 [/image_frame]
"Sitting in the audience, it's a really powerful experience because sometimes it's students you have class with, someone in your sorority, someone in your fraternity, someone you've seen on Hartman Green, and you don't know anything about them, but now you know they've lived through this horrific event and that they are stronger for it," Carroll said. "It's a really amazing chance, I think, for students to respect each other.
"There are victims here, and there are more than you think," Carroll added.
With that in mind, Carroll also explained the Clothesline Project, which could be seen hanging in the College Center Atrium. The colored shirts were sent to F&M by the Lancaster Young Women's Christian Association (YWCA). Each was made by a female victim seeking empowerment, and the different colors represent different types of violence, including assault, rape, incest, and attack based on sexual orientation or political grounds. The white shirts were made by F&M students affected by cases of sexual assault. Each represents a case of violence in the local community.
[image_frame style="border" height="300″ width="200″ align="left"]
[/image_frame]
Take Back the Night, with all its facets and speakers, is a real testament to those who have suffered from sexual violence inside and out of the F&M community. It inspires those affected to come forward if they so wish, if they are ready, and lets those who wish to remain silent know they have a community surrounding them that cares.
[image_frame style="border" height="300″ width="200″ align="right"]
[/image_frame]
Stevens summed up the night in the following way: "This is how the world changes. This is what it looks like."
Questions? Email Alanna at alanna.koehler@fandm.edu.
[fblike layout="standard" show_faces="true" action="recommend" font="arial" colorscheme="light"]