By Katherine Hirsch || Contributing Writer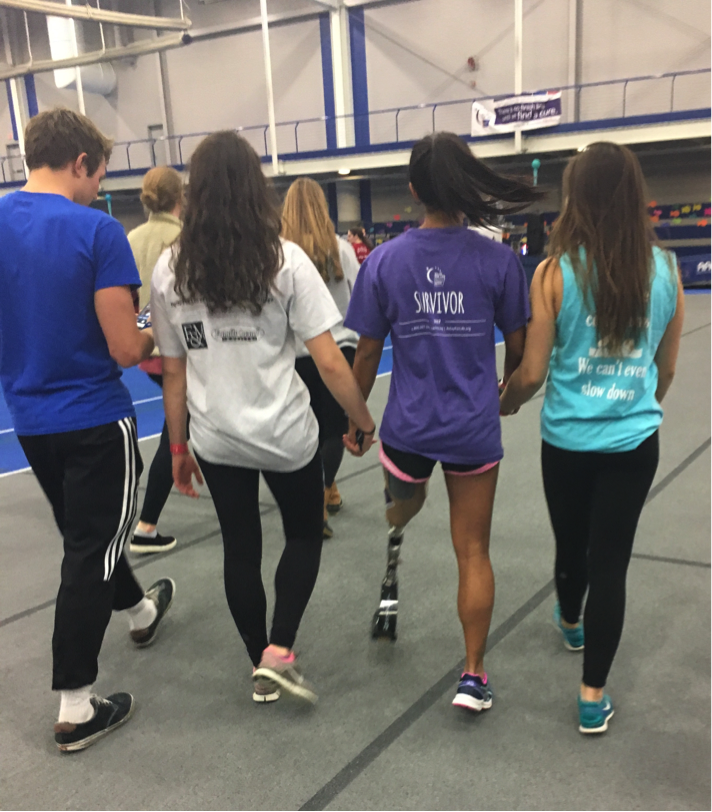 On Friday, March 4, F&M students and faculty, residents of Lancaster, and visitors gathered together to support the national fundraiser, Relay for Life. 
Relay for Life is a volunteer based, fundraising event that raises donations for the American Cancer Society.  The donations go to research for cures, transportation for patients, and assistance for patients to navigate the healthcare system. 
The event can last from 6-24 hours.  It is usually held at night to symbolize the darkness of a diagnosis.  During the event, teams are asked to have at least one member walking the track at all times because cancer gives patients no rest either.    
Sports teams, Greek life, clubs, and student volunteers from F&M filled the Alumni Sports and Fitness Center (ASFC) during the event. People were walking around the track, jumping on the bouncy house, or playing basketball. 
"Our goal is to get as many people in the door as possible. We want to make clear that Relay is… for everyone and we want everyone there to celebrate and have fun together!" said Cayla Berkowitz, co-president of Colleges Against Cancer. 
The survivor ceremony concluded with the survivor's lap around the track.  During the lap, survivor Megan Liang took off running with her roommate, Noel, who joined her mid-lap, setting a tone of celebration for the night.
All the survivors were greeted with applause and cheers from those watching. 
"My freshman year walking the survivor lap with my mom was probably one of the proudest, most emotional experiences I have ever experienced. It was pretty amazing to have the woman… that I love more than anything there with me and just celebrating her strength and courage," remarked Berkowitz, of the emotion during this ceremony. 
Throughout the evening, there were scattered performances from F&M's a cappella groups, Cheer Squad, Dance Team, and L.I.F.T. 
Relay for Life involves a luminaria ceremony to show support for patients and their caregivers, and to honor lost loved ones.  The ceremony involves lighting a glow stick and placing it in a luminaria.  The light in the middle of the night represents hope in the midst of the darkness. 
In the ASFC, paper bags were placed around the track.  They were decorated with dedications to loved ones or with inspirational messages.  The lights are shut off and participants partake in a silent lap around the illuminated bags to honor all whom cancer has affected.    
There was also a ceremony for those who volunteered to donate their hair to the Pantene's Beautiful Lengths program.  They must donate 8 inches or more.  The hair is used to make wigs for cancer patients.
First-year Katherine Hirsch is a contributing writer. Her email is khirsch@fandm.edu.