By Samantha Greenfield II Senior Staff Writer
     This past week, the Common Hour lecture was given by author and professor of English at Allegheny College in Pennsylvania, Christopher Bakken. Bakken wrote the culinary memoir, Honey, Olives, Octopus: Adventures at the Greek Table as well as multiple books of poetry and a translation of Greek poetry by Titos Patrikios. He also is the director of Writing Workshops in Greece: Thessaloniki and Thasos.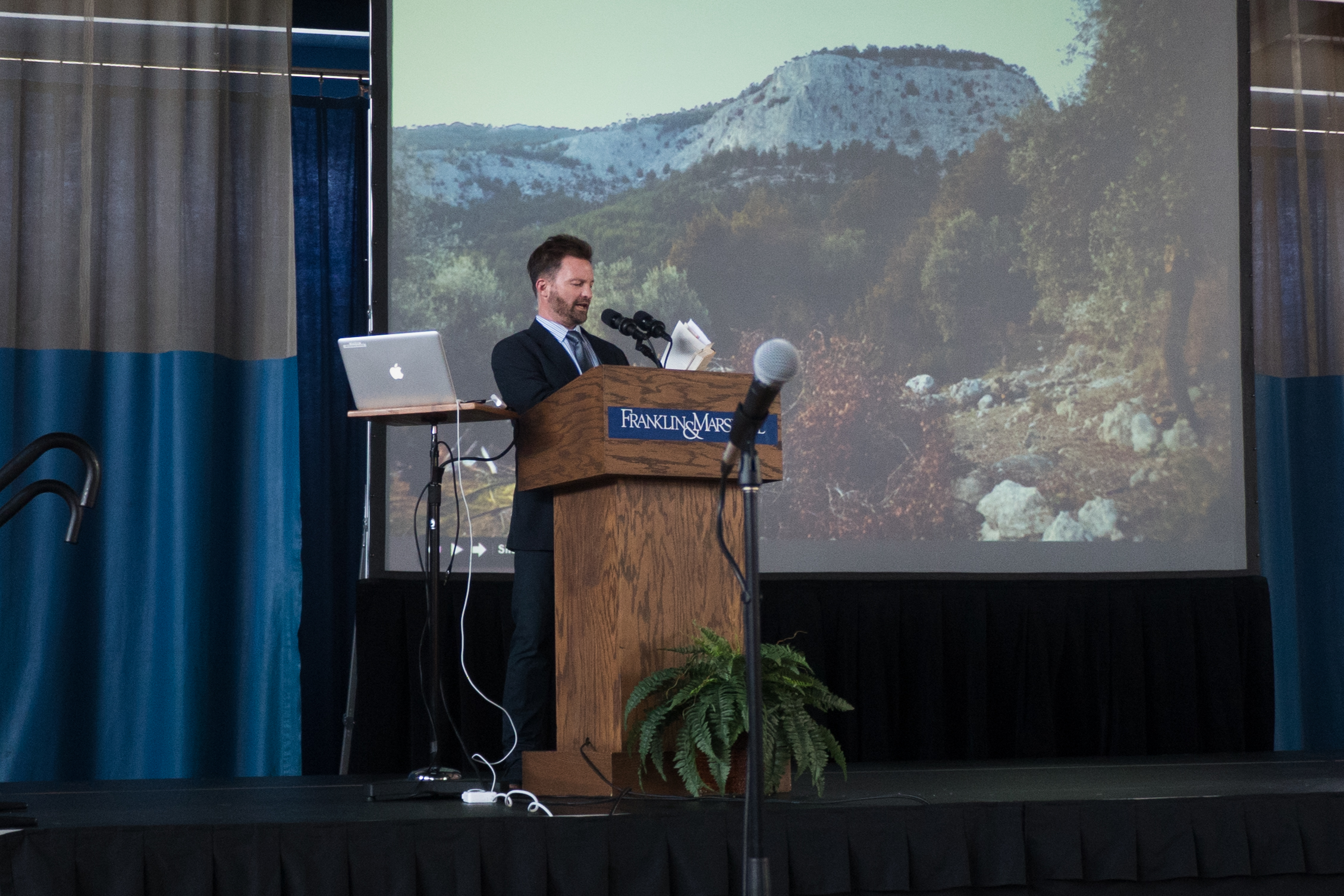 Bakken began by explaining that he would treat this lecture as a memoir sandwich, meaning he would read from his memoir then give a talk and then finish by reading from his memoir. He read the opening scene in which he is in Greece with a traditional Greek family who harvest olives and use the food of the land to create culinary masterpieces. Each ingredient, whether vegetable, fish, or olive oil, was collected and cooked by the family.
     Bakken grew up on a family farm in Wisconsin that grew an array of different crops organically until his family was introduced to the "efficiency" of DDT and the ease of a large tractor. The farm changed into a single crop farm, growing only corn. This, Bakken explains, not only ruined the soil; but also, caused high cancer rates in his family. This part of his life has changed the way Bakken views food.
     He asked the audience how many of them could name where each ingredient on their dinner plate last night came from. He asked members of the audience who knew where 100% of the ingredients were from to raise their hand. Around 10 people were able to do that. He then asked those whose new where 50% of their ingredients in last nights dinner came from. Around 10 more purple were able to raise their hands.
     Bakken told the rest of the audience, who were clearly in the vast majority, that he did not want to make them feel guilty. In fact, he said that he even succumbs to the lure of an easy meal from McDonald's from time to time.
     Bakken explains what got him started in the food business was an experience he had at a farmers market in which he looked around and noticed that the boxes of produce were, in fact, wholesale boxes. He asked one of the vendors where his watermelons were from. The vendor shrugged and said, "I'm not sure, maybe Georgia." The whole point of a farmers market, Bakken exclaims, is that you get your food from the actual farmer.
     He then met Amish farmer, David Yoder, who was only selling the seasonal produce of cucumbers and celery. Bakken went to Yoder's farm and saw the diversity of crops cultivated and was inspired to strike a deal. Bakken began a Community Supported Agricultural system that linked Yoder's farm to a farmers market in Bakken's own garage. Members of the CSA would come help farm and transport the produce and Yoder would receive a profit.
     To finish, Bakken returns to his memoir depicting the Greek family and himself enjoying the marvelous culinary and family traditions of Greece. Without thinking about it, Greek families are being subversive and revolutionary
eaters.
     They naturally know where each ingredient on their plate is from and even where each ingredient in their glass is from. Bakken argues that this is revolutionary and can change the corporate dominated food market we have succumbed to today.
Senior Samantha Greenfield is a senior staff writer. Her email is sgreenfield@fandm.edu.
Photos by photo editor sophomore Emma Brown.