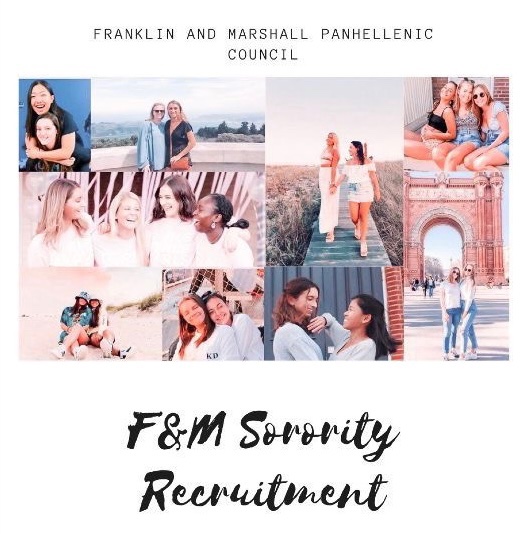 By Isabel Paris||Managing Editor & Ellyn Fritz||News Editor
Recruitment for sororities, including Franklin & Marshall, is the time when new members are welcomed into the different organizations and allows sororities to promote their philanthropy events and expand their sisterhoods. Recruitment has always involved long hours of chatting with different people, specific outfits, and extravagant decorations. But not this year.
With COVID-19, thousands of sororities across the country have had to adapt to virtual recruitment, online, without any frills, just people talking to people. F&M is no exception to this change in recruitment strategies. This upcoming January is F&M's encounter with their first virtual recruitment, with potential new members who will not even be on campus and current members spread across the country.
When looking at the decision to make recruitment virtual, President of Panhel, Katie Clifford '21, said that "Recruitment will look very different compared to years past, but there are benefits to a virtual format. Aspects such as dress codes/outfit choice will no longer weigh as heavily on PNMs (Potential New Members) as the dress code has been changed to casual. Furthermore, Panhel will be covering all recruitment related fees for PNMs, so recruitment this year is entirely free. By removing these traditional barriers, values and quality of conversation will be at the forefront of the mutual selection promise."
In years past, PNMs would return to Franklin & Marshall's campus early from winter break for 'primary recruitment.' This entails three days of meeting and getting to know the five different sorority chapters on campus: Alpha Phi, Alpha Delta Pi, Chi Omega, Kappa Delta, and Alpha Xi Delta. With that comes the cost of food, transportation to school, and the required outfits for the three days of recruitment: casual, business casual, and formal attire.
According to Clifford, the decision to recruit in a virtual format due to the implications of the pandemic and mandated social distancing requirements came from the National Panhellenic Conference. Clifford noted that, "Many schools for which primary recruitment takes place in the fall have already successfully conducted a fully structured virtual recruitment."
Although it is difficult to pinpoint the exact number of PNMs who will register for primary recruitment, Clifford explained that "some schools have experienced an increased enrollment in recruitment whereas some other institutions have experienced a decrease. It is difficult to pinpoint exactly how many potential new members will enroll at this point in time, but we have successfully held three recruitment workshops for PNMS with a number of first years in attendance. This August, when the majority of first years were still in quarantine, we held an event in which these students had the opportunity to speak with student leaders in greek life about their experience at F&M. Following this event, we received a number of follow up emails with questions about the virtual recruitment process, which is very promising."
Franklin & Marshall's Panhel Vice President of Marketing, Ryan O'Rourke '22, noted that having a strong presence on social media outlets is very important during this time to bring awareness to the different sororities. She explained how Panhel is working to produce content that will help answer Potential New Member's questions about Greek life and to eliminate common misconceptions about sororities that are typically answered and addressed when PNMs are able to see and interact with the various sororities on campus.
When talking to the recruitment heads of the five sororities, they all shared their equal excitement and collective nervousness about these unexpected times. Sarah Buckingham '21 of Alpha Delta Pi said that while recruitment being virtual is new, she "still has the same positive vibes as if it were in person" and is excited for possible new members. Allison Carey '21 of Chi Omega understands why PNMs may feel "apprehensive about going through virtual recruitment for a number of reasons" but "more than ever we need a support system" going through these difficult times. Elizabeth Rohde '21 of Kappa Delta stressed that she is "really trying to make the PNMS as comfortable as possible going through recruitment because we know that it can be a stressful process, whether on campus or online." While recruitment will be different, the importance of supporting these PNMs is what each of these recruitment chairs and sororities are focused on.
Recruitment has such a focus on the decorations and showing off the best of each sorority in their rooms, however with it being virtual, all the focus will be on the conversation had between the PNMs and the current members. Ayla Saferstein '21 of Alpha Xi Delta is not worried about the lack of rooms or decorations because it "gives us the unique opportunity to really focus on our values, which is the most important part of recruitment and sorority life." Angie Burns '21 of Alpha Phi also sees virtual recruitment as a way "to provide some sense of normalcy to the current PNMs and hopefully bring as many new faces to the Greek community as possible."
The Panhellenic Community at Franklin and Marshall has always based its recruitment style on a values based system. Virtual recruitment will only bolster the conversations and help PNMs find their place in one of the organizations.
---
Resources for sororities and F&M's recruitment can be found below: 
F&M Fraternity and Sorority Life Page
https://www.fandm.edu/campus-life/get-involved/fraternity-and-sorority-life
Alpha Phi
Chi Omega
Kappa Delta
Alpha Xi Delta
---
Senior Isabel Paris is the Managing Editor. Her email is iparis@fandm.edu.
Junior Ellyn Fritz is the News Editor. Her email is efritz@fandm.edu.