By Nimai Shukla || Sports Editor & Jack Gilroy || Developmental Editor
Darby Klopp is a Junior at F&M, she is from Rehoboth Beach Delaware, a leader in Diplomat Christian Fellowship, A BIO Major who post graduation plans to go to Physical Assistant school, a Midfielder on the Field Hockey team, Centennial Conference ROY (2019), and has a younger sister Riley who is also on the Field Hockey team.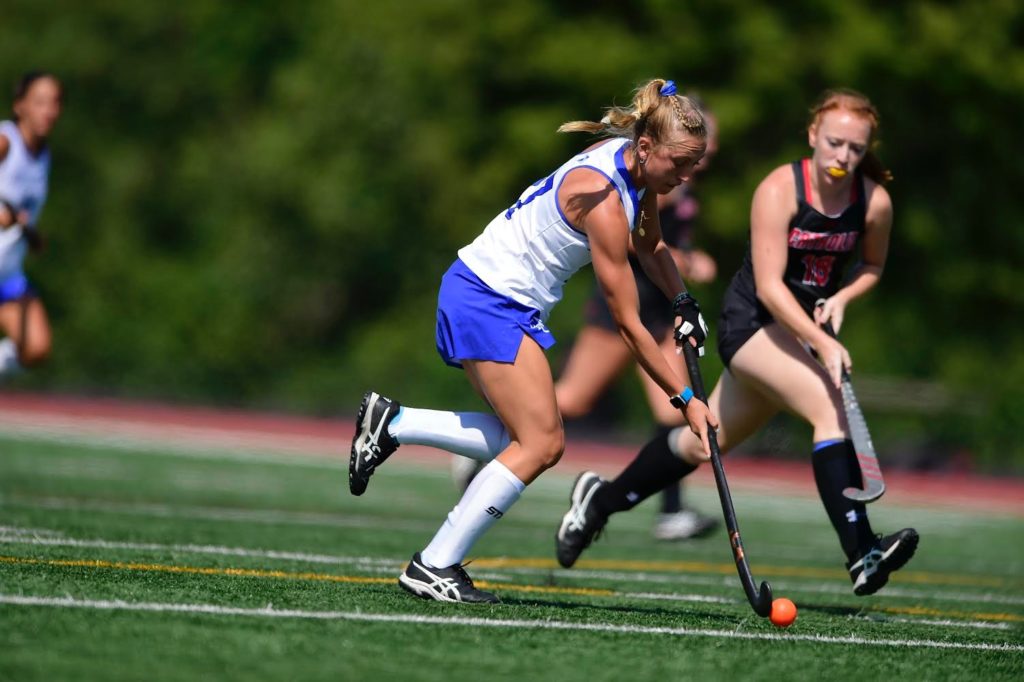 What made you choose F&M and how has it lived up to your expectations you had as an incoming freshman?
With a cousin being a lacrosse player here at F&M, the school was on my radar early. I also knew a few other people who had attended the school so there was a sense of familiarity with the school at first. Prior to taking an overnight visit to F&M, I was this close to cancelling it and attending somewhere else. But I chose to go through with the overnight visit and am so glad I did. As soon as I stepped on campus I felt a very positive feeling of being included. It has definitely lived up to my expectations. The support teammates had for each other, and how everyone roots for each other.
Describe F&M field hockey and the culture it has?
Hierarchy is not present on our team. Everyone has a mutual respect for each other on the team and is more worried about the team's goals more than an individual's goal. Knowing that you can count on the girls next to you is what pushes us all. It's a WE over ME team forsure.
When/how did you initially get into Field Hockey?
It's a funny story actually, I tried out for the team in 6th grade and ended up being the only girl cut. I stuck it out and served as a manager for the year. Then when tryouts came the next year I ended up making the team. I am very glad I didn't just give up and quit because then I probably wouldn't be where I am today without it.
If you were to describe yourself as a player, what would you say?
I pride myself on being the hardest worker in the room. I make sure I do all the intangible things to the fullest and always try to put in 110% effort. I don't need to be in the limelight for me to be happy as long as the team is succeeding.
Greatest athletic achievement to date?
The National Title game was amazing. It was a surreal experience because the game was only 20 minutes away from Campus. It was so cool to have the school my family and friends be able to come and support me and my teammates.
Give me an example of a day in your life as an athlete at F&M?
Usually wake up and get right to it. Making sure I stay on top of my classes, as well as a healthy amount of studying and school work mixed in. We then usually watch film as a team and then of course practice in the afternoon. Then as well as mixing in dinners with my teammates.
Who are some of your favorite athletes or athletes you think all athletes should look to for inspiration?
I don't necessarily have one in particular. I used to like Mia Hamm from the USWNT a lot when I played soccer. But today I really just draw inspiration from my teammates. They are the ones who help drive me to be the best and help hold me to a higher standard.
Best/favorite place to eat or visit in Lancaster?
Double C, a good mix of Mexican and hispanic food, but they also have bomb burgers. 
Any secret talents you'd want to share with our readers?
Not necessarily a talent but there was a time where I almost went duck hunting with Carson Wentz the QB for the Colts. Unfortunately it couldn't happen because he ended up tearing his ACL before it could happen.
Advice you would give a highschool athlete who wants to compete at Next Level?
To make sure you are going to a school because you truly love the school and not just the athletics part of it. With Covid that has shown me the importance of that. Taking in the campus life and academics needs to be a huge factor in your college decision and then any type of athletics is kind of just a bonus.
Sophomore Nimai Shukla is the Sports Editor and his email is nshukla@fandm.edu. Senior Jack Gilroy is the Developmental Editor for the Sports Section and his email is nshukla@fandm.edu.