By Steven Viera, News Editor ||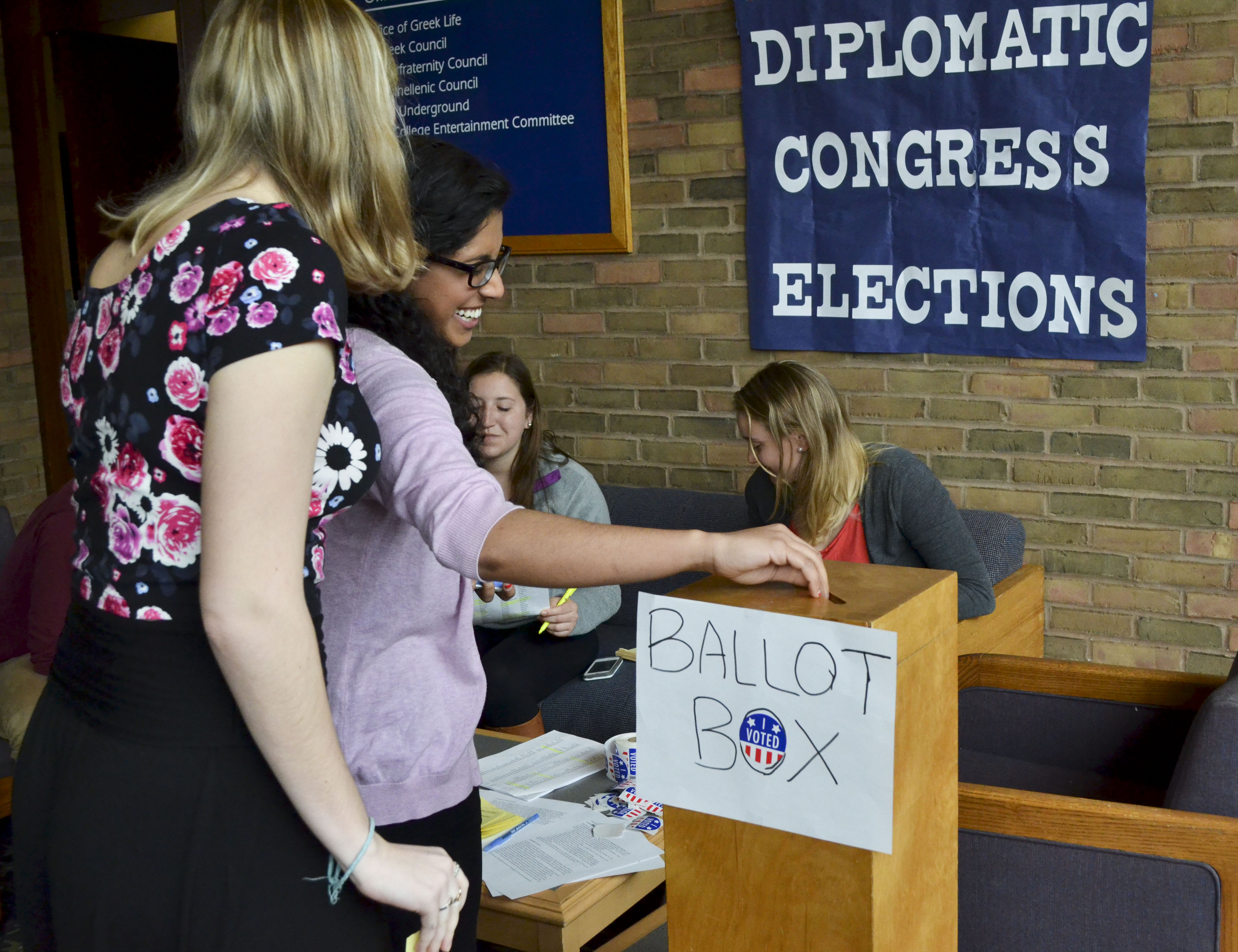 Last Tuesday, April 8, the Diplomatic Congress (DipCon) held class elections in order to vote in new leaders of the rising senior, junior, and sophomore classes. Rosie Blair '15 was elected senior class president, Anne Dolan '16 was elected junior class president, and Donnell Bailey '17 was re-elected as president of the current first-year and rising sophomore class.
"I feel that junior year is a transition between caring about your House and really caring about your class, so senior year is when everyone comes together— there's a lot of class unity— and I really want to help facilitate that," Blair said.
Blair has served on DipCon for the past year as a member of the Junior Class Caucus, but she also brings leadership experience as a member of the Bonchek House Congress, an Orientation Planning Director (OPD) from the Summer of 2013, and as vice president of membership education for Kappa Delta, to her new role.
As president, she hopes to work with the Senior Campaign and continue traditions like Senior Nights in order to foster unity amongst the class.
"If you didn't love F&M, you wouldn't have stayed here for four years," she said. "I really want to draw on people's experiences and bring out what they love and apply that to senior-exclusive events in order to really create class unity."
Dolan, who has served as chief-of-staff for her first-year class government, as a member of the Bonchek House Congress, and as DipCon's Public Relations chair, decided to run so that she could be the engine for the kind of change and class unity she hoped to see among members of the Class of 2016.
"Transparency is really important to me and having the opportunity for everyone to get involved who wants to get involved," she said. "I have some ideas, but I want to open it up and take everyone else's [suggestions]. We have a ton of bright kids in our class—we should capitalize on that."
Some of Dolan's ideas include producing stickers to put on water bottles and laptops, adding Stressbusters during midterms, and hosting send-off and return parties for juniors who study abroad.
"I'm looking forward to talking to our class and seeing what other ideas they have, as well," she said.
For the rising sophomores, Donnell Bailey '17, incumbent president, secured re-election, despite initial doubts about running.
"I was not going to run for re-election; I originally thought that it was great serving as president freshman year, but I need to take a step back to develop myself," he said. "But as the election neared I received a lot of encouragement from peers saying I should at least do one more year. In essence, what motivated me was not self-interest or self-ambition but the people of my class."
In his second term, Bailey plans to advocate for more payment options at Ben's Underground, continue the tradition of a Major Declaration Dinner,  and meet with the faculty, administrators, and his constituents in order to ensure that all voices are being heard.
"It is a great responsibility to undertake in addition to what I would like to personally accomplish," he said.
Sophomore Steven Viera is the News Editor. His email is sviera@fandm.edu.