By Caitlyn Jennings || Contributing Writer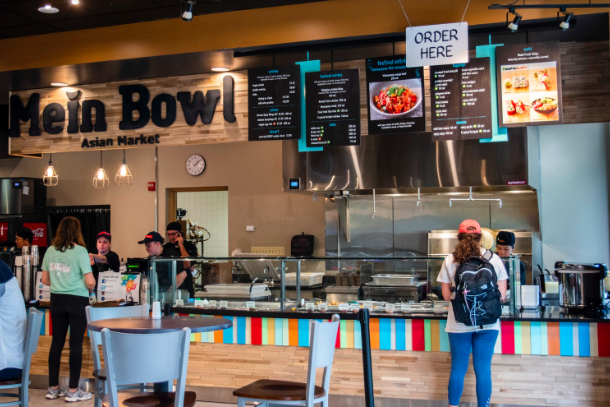 Between signing up for classes and registering for clubs, it is easy for first-years at F&M to overlook a critical aspect of college life: food. There are four main dining options within F&M's campus. Outside of F&M, Lancaster itself is home to a plethora of restaurants that are as diverse as F&M's population.
For first-years especially, the dining hall—otherwise known as D-Hall—is probably the most convenient on-campus option. Located between Bonchek House and Ware House, D-Hall contains a variety of quality food options.
All first-year students at F&M were assigned one of three meal plans, so it makes sense to try and eat at D-Hall as often as possible. Other restaurants on campus, including CC, LSP and Blue Line, take dining dollars. This is an important distinction to keep track of, and Inside F&M helps students see how much money they have left on their cards.
According to first-year Brooks House students— specifically those residing on the third floor of Marshall Hall—the omelet station, the salad bar, and Kivo are all good choices. In fact, one of the best dairy entrees at Kivo is known to be the tuna melt.
Kivo is a kosher station which serves both meat and dairy entrees. Anyone can eat there, but Kivo asks that food from other D-Hall stations remains on the tables and away from the food counters. Sadly, the grills and soda machines in Kivo are turned off beginning Friday night and lasting through Saturday! F&M students, however, always enjoy the high-quality food and friendly staff for which Kivo is known.  
In these cases, the College Center, or CC, is popular. Students tend to like CC because they have a menu-style ordering system, with entrees such as the Impossible Burger, a vegan grilled cheese and chicken tenders with fries. There is even a Chinese food station.
Luckily, there are other options besides D-Hall and CC. For instance, LSP is a lesser-known place amongst freshmen, but they do serve good sandwiches.
Blue Line is yet another food option. While it is technically independent of F&M, Blue Line resides on F&M's campus. This is a sensible place for breakfast, especially for students who have 8am classes in Stager or Kepier. Like CC and LSP, Blue Line gets crowded around popular eating times, and might not be a good option with back-to-back classes.
At some point, even first-years will get tired of F&M's dining options. In this scenario, it's probably a good idea to explore some of Lancaster's restaurants. Located on College Row, Iron Hill is a chain restaurant that many first-years ate at when they were dropped off for orientation.
Additionally, John J. Jeffries is a 10 minute walk from campus. Students who participated in GROW (Gardening and Regenerating Orientation Week) went there as part of the pre-orientation program. The most popular dish was a small plate called the soup duo."I tried the Soup Duo and I can see myself going back in the future," first-year Emma Lenz-Mann said.
Finally, Lancaster Central Market is open to the public on Tuesdays, Fridays, and Saturdays from 6am-4pm. Central Market is known for supporting local businesses, and, in many cases, sustainable agricultural practices. It is home to many Amish foods as well as ethnic foods; the guacamole and Mediterranian dishes are just two examples.
There are a lot of Amish people working and shopping at Central Market, so many vendors there prefer accepting cash over credit cards.
Currently, Lancaster is becoming more and more of a 'foodie' city, with new restaurants popping up all the time. With Lancaster at their disposal, as well as the multiple dining options on campus, it's almost impossible for first-years' gustatory perception to be left unsatisfied.
First-Year Caitlyn Jennings is a contributing writer, her email is cjennings@fandm.edu