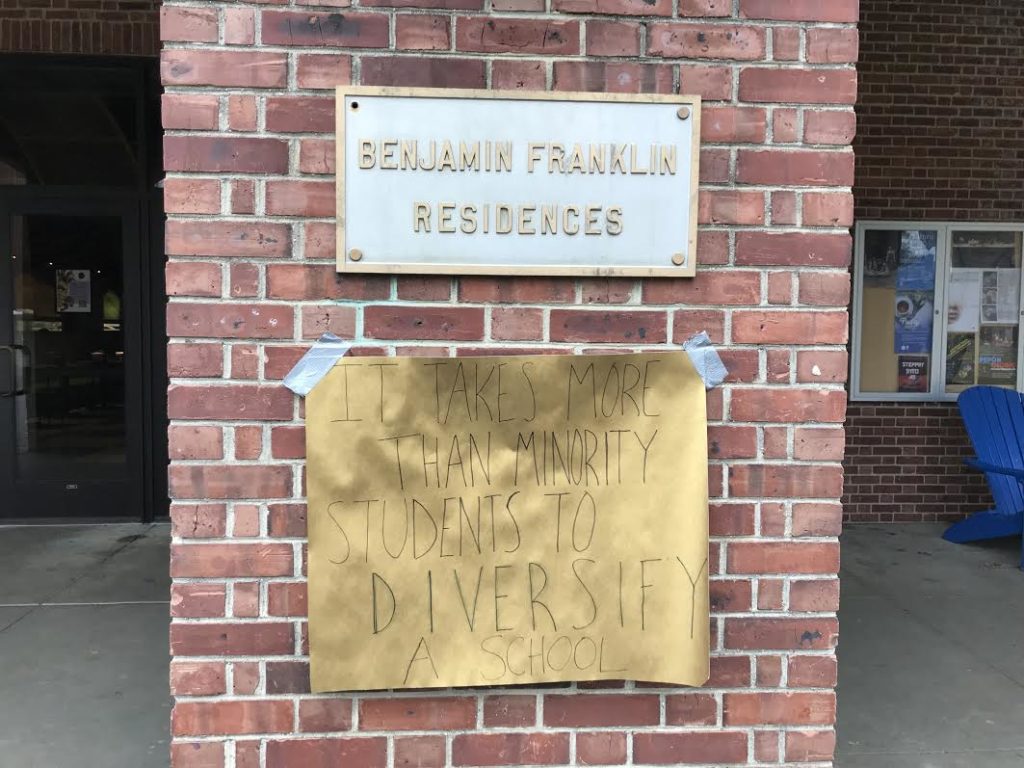 By F&M Black Student Union || Contributing Writer
In honor of February being Black History Month F&M's Black Student Union sponsored a Civil Rights Week this past week. Each day had a different theme or event including various forums and discussions. During the week, the organization hung up the message below around campus, expressing their desire for increased representation on campus.

Blink twice if you're tired of your white ass professors!
If you've blinked… continue reading.
Recent statements released by Franklin & Marshall College highlight an increase in student diversity on campus, but all fail to address the true meaning of diversity within the student experience. As Black and Brown students, we are exhausted from hearing about the "talent strategy" and "diversity initiatives" that are aimed at recruiting more Black and Brown students. While the institution continues to recruit more and more students of color, day after day we attend classes and are forced to learn and accept mentorship from unrelatable white academic professors. While we value their continuous efforts, many white professors have failed to provide the proper support and guidance that Black and Brown students need to be academically and emotionally successful.
It is unsettling that we can count on our fingers the total number of professors who share the same identity and life experiences as us. In addition to their professional responsibilities on campus, we are tremendously grateful to the few faculty members of color who have graciously undertaken the 'invisible labor' required to help Black and Brown students acclimate and excel at this predominantly white institution. Black and Brown students are seeking this 'invisible labor' from professors of color because there are no other resources available to those of us who are struggling academically, emotionally, and socially. At the Student Wellness Center there are no counselors of color who can provide resources to Black and Brown students who are suffering. The labor intensive efforts that are required to support Black and Brown students on campus is not the sole responsibility of these professors, but the responsibility of the F&M as a whole.
This institution has committed to recruiting diverse talented students, but has not committed to properly supporting and encouraging us. Today, we demand that Franklin & Marshall College meet the needs and expectations of its Black and Brown students. We are entitled to the same academic capital and resources that are afforded to our white peers.
We have 3 simple proposals:
1. Adopt the Rooney Rule from the NFL's policy playbook
requires teams to interview at least one diverse candidate of color to fill vacancies for head coach position
2. Increase representation in services/ resources available at The Student Wellness Center
a. Ensure that mental health counselors are representative of diverse ethnicities and people
b. Create programing to address mental health issues specific to students of color
3. Implement a system for current professors of color who do not feel supported or encouraged by the institution
It should not be the responsibility of professors of color to serve as the only support system for Black and Brown students
This is yet another testimony of how Black and Brown students have overexerted ourselves in order to receive the standard educational experience that we are entitled to. Our white peers never had this type of homework assignment before. The talent strategy initiative continues to recruit and tax us emotionally, mentally, and physically. There seems to be a lot of diversity talk, but no diversity action. Do not recruit us, if you are not willing to support us. Now that we have done your labor for the day, you're welcome!
#WhyWeWork

F&M's Black Student Union is an organization that, according to their web-page, "recognizes the many aspects of College that influence black students' lives and aims to create a social atmosphere that is accepting of all views. BSU's goal is to create a united community." F&M BSU is located in the Black Cultural Center.