By Lily Vining || Staff Writer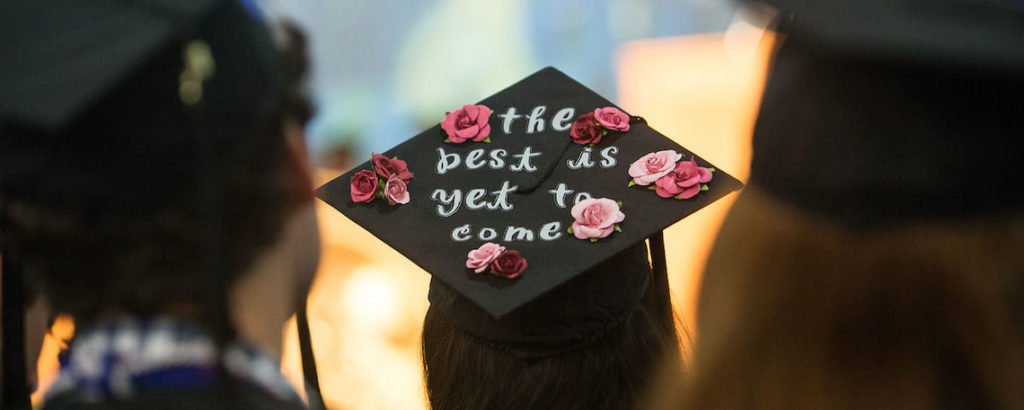 On Saturday, Feb. 20, members of the Franklin & Marshall Community tuned in from across the globe to attend a Virtual Commencement Recognition Celebration to celebrate the graduates from the Class of 2020. The ceremony was initially planned to be held in person in December 2020 but was delayed due to the sudden onset of the COVID-19 pandemic.
At the onset of the ceremony was a touching memorial honoring the loss of beloved 2020 graduates Ellie Halm and Vicente Brambila. A slideshow showed both classmates in their element: Ellie, with a warm, inviting smile, surrounded by friends and loved ones; Vincente, dancing with remarkable confidence and grace at various F&M performances.
Congratulatory remarks from current and past faculty, Board of Trustee members, College House Dons and Deans, and former graduates extended throughout the ceremony. Their sentiments shared common themes of resilience and determination, attributes which President Barbara Altmann highlighted in her address. The Class of 2020, graduating in the midst of the pandemic, faced numerous unforeseen challenges and are likely disappointed that they could not attend the ceremony they expected; however, she noted, in the words of poet Wendell Barry, that "the impeded stream is the one that sings." In other words, those who brave the biggest obstacles are destined for success. She encouraged graduates to maintain connections they fostered at F&M, follow their passions, and use the gifts to serve the community. "In these difficult days, it has never been clearer that the world needs Diplomats," she emphasized, "the world needs you."
Other notable speakers included Anastasiia Grigoreva, a summa cum laude cognitive science major and psychology minor, who was selected by faculty as the recipient of the coveted Williamson Medal. In her speech, Grigoreva shared a story of her own loss and resilience. In the depths of her struggles, she found comfort and strength in her F&M community. This collective state of vulnerability that we are living through now, she said, can serve to bring us together and help us help each other.
Graduates and their families also heard from Provost Weston and Commencement Speaker Pedro Rivera, president of the Thaddeus Stevens College of Technology in Lancaster and former Pennsylvania Secretary of Education. Finally, in an iconic graduation moment, students were encouraged to turn their tassel, while videos of their classmates taking part in the act played on the screen. Segments of faculty members cheering stood in for the typical applause from the audience. To finish out the ceremony, the names of graduates, their college house, and distinctions rolled like movie credits across the screen.
Despite the efforts put in by the college to celebrate the Class of 2020, graduates felt disappointed, yet not surprised, by the ceremony. Common responses criticized the decision to hold graduation almost a year later, only to take place virtually. Graduates also felt that the ceremony was less focused on the graduating class and more on how hard COVID-19 hit higher education. "I really wish that we could have had one day focused on the Class of 2020," said one graduate, who also expressed her disappointment that the names of graduates were unexpectedly not read aloud, revoking their chance to "walk" virtually.
Though the ceremony itself was anticlimactic, many graduates appreciated the Zoom receptions held afterward. "They provided a personal touch," remarked Alex Pinsk, who enjoyed connecting with professors and students in the Brooks College House and Classics receptions. These Zoom rooms offered graduates and faculty a chance to catch up and share their experiences from the past year. Maddy Markman '20 admitted that she almost did not attend the virtual commencement, but was ultimately glad she did after joining the biology department's reception. Markman, as well as the other graduates, felt grateful for the opportunity for live interaction, which would not have been possible without the support of F&M faculty. "It meant a lot that [the professors] took time out of their weekend to celebrate with us" Markman expressed.
Current students noted similar flaws with the ceremony, including its lateness and lack of advertisement. Commencement is usually a high-spirited weekend on campus, but this year, many students did not know it was taking place. "It wasn't even on my radar" admitted senior Kathryn Hanley, demonstrating how the announcement was easily lost in students' endless emails. Other students who tuned in to see their older friends graduate were disappointed that the graduates did not receive the ceremony they expected. With the pandemic still preventing large in-person gatherings, many seniors worry that their own graduation will take place online also. When asked what they would change about the virtual ceremony going forward, Delaney Hahn advocated for a greater emphasis on the graduates, giving each one a slide complete with a picture, their major, and other activities they take part in on campus. Hanley also proposed a section where students could acknowledge a faculty member at F&M who made an impact on their education. Though these additions cannot replace the in-person experience, they do provide options to make the graduation more personal.
Franklin and Marshall's students are part of a small fraction of the young adults worldwide who lost out on irreplaceable moments of their college experience. Though their commencement looked drastically different from how they once imagined, they continued to demonstrate their resilience and adaptability by finding the silver lining in the situation. For now, graduates and their families can look forward to a day in the near future when they can finally return to the F&M campus to celebrate.
First-year Lily Vining is a staff writer. Her email is lvining@fandm.edu.