By Christa Rodriguez || Layout Assistant
Professor Lynn Matluck Brooks gave this week's Common Hour talk, titled "Touched by Dance: Lineage and Learning." Brooks is the Arthur and Kat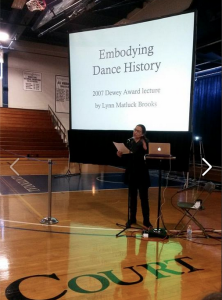 herine Shadek Professor of Humanities, director of the Dance Program at F&M, and is Don of Brooks College House. She is also the recipient of the 2015 Christian R. and Mary F. Lindback Foundation Award for Distinguished Teaching. She dedicated her presentation to her current and former students. 
In 1984, Brooks founded the Dance Program at F&M. Former Professor of Theater at F&M Gordon Wickstrom hired her to be "the sensual salvation of our students." Her mission was to use pedagogical lineage and sensate learning as essential parts of teaching. Through these methods, Brooks said, "learning becomes deeply personal," especially in dance, where, "I know where I stand because I stand in my body."
Brooks traced her dance history back to 1674, to an archive dance contract signed by a female choreographer, Doña Josefa de Céspedes. Fast forward to Martha Graham, whose 1928 work titled "Steps in the Street" was performed by Brooks and her students during her Dewey Award talk. According to Brooks, this piece highlighted the embodiment of dance. Brooks herself said Martha Graham inspired her to dance in the first place.
Brooks explained that dance is experiential, dialogic, and expansive. It is experiential because dancers "must let knowledge in through the senses." Dialogic refers to the dialogue between the student and the teacher. The expansiveness helps students understand and make connections to other fields of knowledge.
In addition to Brooks' many titles, she is also a Certified Movement Analyst and Dance Historian. She spoke about her lineage of both these titles. Brooks' mentor was Genevieve Oswald, who taught Dance History at New York Univeristy, and Curt Sachs was Oswald's mentor. Brooks noted that all dancers can find their dance lineage traced back to the great dance instructors. She went on to trace her ballet and modern dance linage.
When speaking about teaching dance techniques, Brooks emphasized demonstration and imitation, kinesthetic experience and awareness, ideokinesis, and the importance of touch. Ideokinesis has to do with imagery and ideas. An example of this, Brooks explained, would be imagining a hook attached to the top of your head, lifting your torso to create the verticality that is highly valued in Western forms of dance. Brook described the "arts as chief providers of touch." Examples of dance where touch is especially critical are contact improvisation, modern dance (Pilobolus), ballet pas de deux, and ballroom tango.
Brooks said that all learning occurs through the senses. She argued that all the senses have to do with touch, and that even sound waves touch our ears.
"Touch is fundamental to all perception" and thus, fundamental to learning. Touch awakens sensations in a person. Instructors touch students in certain places on the body to help the student feel that sensitive area in relation to their movement in dance. Recently, dance has warned against touch. However, Brooks counters, "fear of touch is dangerous to flourishing and impedes learning."
Brooks outlined three spatial dimensions important to her dance experience. Time, she noted, was vertical, like the ground. It is grounded in her lineage up to her current students. Horizontally, she sees her colleagues at F&M and beyond sharing knowledge of their different fields. Third is the performance and teaching aspect of dance. The F&M dance legacy started with Gordon Wickerstrom, then Barbara Barden, Lynn Brooks herself, and continues with Pam Vail and Jennifer Conley, current dance instructors at the college. Alumni are a large part of the legacy, as are current students who continue F&M's dance scholarship.
Such students include Emily Hawk '16 and Elizabeth Yutzey '16, both dance honor students who spoke and showed excerpts from each of their own works at Common Hour. Hawk spoke more about the lineage of dance history and stated, "dance reflects the context of the culture in which it was created." She explained how written symbols as well as audience response both contribute to the lineage.
Hawk presented a portion of her independent study, which will be performed in its entirety at the Phillips Museum of Art in the gallery space alongside the River Relations Exhibit on March 4 and 5 at 7:30 p.m. Yutzey spoke about the importance of touch as a "source of information not only for learning, but for watching dance as well." Like Hawk, she showed an excerpt from a piece she choreographed herself. Her full work will be performed Feb. 26 and 27 at 7:30 p.m. in the Green Room Theatre.
First-year Christa Rodriguez is a Layout Assistant. Her email is crodrigu@fandm.edu.