By Gabby Goodwin || Assistant Sports Editor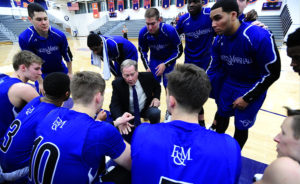 Finishing 18-8 for the season, averaging 75 points per game, and becoming Centennial Conference Semifinalists, F&M Men's Basketball finished out a strong season this past weekend with nothing to hang their heads about.
While they lost a hard-fought battle against Dickinson in the Centennial Conference Semifinal 70-64 this past Friday, they gave the Red Devils a run for their money in what was a tightly contested game.
Following a tough loss to Johns Hopkins on Wednesday, February 8th by a score of 67-57, the Dips came into the conference tournament strong and proved their place among the conference's elite with three consecutive wins against Washington, Dickinson, and Swarthmore.
Putting Swarthmore in their rightful place, the Dips crushed the Garnet's 93-66 in their last home and Centennial Conference game of the season. F&M's senior captains Jared Wright, Leor Levy, and Hunter Eggers played their last game at Mayser as they were honored before the game.
Both teams struggled in the early minutes of the game, before F&M found their rhythm and took a 12-point lead over the Garnets. Leading 16-4, F&M's Ignas Slyka scored a triple at 10:45 in the first quarter.
Holding their ground, however, Swarthmore came back with six, upping the score 19-13 with 6:20 left. Though, unsatisfied with nothing short of winning, F&M countered with seven straight and lead by 13 points at 4:10. A three from F&M's Jared right made it 32 for the Dips and both teams went into the break with a score of 32-22.
An unwavering F&M went into the second strong, increasing its lead to 49-26 at 16:05 in the final frame. The Garnets continued to struggle and F&M took advantage, upping their lead 74-48 at 8:05 on a three from F&M's Matthew Tate. Keeping at least a 20-point lead throughout the rest of the match, the Dips finished with a 93-66 victory.
Securing the three seed in the Centennial Conference Playoffs, the Dips faced off this past Friday against Dickinson and faced an extremely difficult loss, falling short of the Red Devils by just 6 points with a final score of 70-64.
In the loss, Brandon Federici and Matthew Tate both scored 15 points, while Jared Wright added 10 of his own. Dickinson was able to erase a 4 point first half F&M lead by outscoring the Dips 42-32 in the second half.
Overall, however, F&M Men's Basketball exits the court with a successful season and an 18-8 final record. Fighting long and hard throughout each game this year, determined to play their best and ultimately, be victorious, F&M Men's Basketball is going to give the Centennial Conference a run for its money next season, just wait and see. We are very proud of the team's efforts and we wish them nothing but the best as they rebuild for another run next season.
First-year Gabby Goodwin is the Assistant Sports Editor. Her email is ggoodwin@fandm.edu.