By Gabby Goodwin || Assistant Sports Editor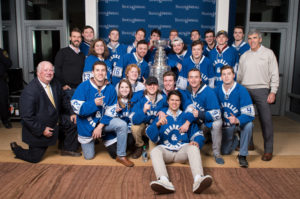 Diversity. It's a word we hear a lot at Franklin & Marshall College. Diversity in race. Diversity in class. Diversity in sexual orientation. Diversity even in our college's own mission statement. Well, what about diversity in sports? As a college campus with only 2,500 students, F&M cannot offer every single collegiate sport because, sometimes, there simply aren't enough students interested. This is where club sports come into effect. Often dismissed as low commitment and uncompetitive, club sports at F&M don't fit this unfair mold. Recently, one club sport that has stood out in its efforts at F&M is the Club Ice Hockey team. Finishing second in the American West Division of the Delaware Valley Collegiate Hockey Conference (DVCHC), F&M Ice Hockey finished their season with an 11-2-0-1 record.
In 1971, Brian Schnarr from Bryn Athyn College and Paul Saylor from West Chester College co-founded the DVCHC. The league consisted of six teams the first season, including Bryn Athyn College, LaSalle, St Joseph's University, University of Delaware, Villanova, and West Chester. The first season was just a regular season without playoffs and BAC and West Chester both finished in first with the same record, therefore making them co-champions.
Now, F&M Club Ice Hockey plays in the American Division of the DVCHC and faces off against teams that are known to be a part of the Centennial Conference. Such teams include, Dickinson, Gettysburg, Johns Hopkins, and York. As such teams prove rivals time and time again for F&M NCAA athletes, F&M Club Ice Hockey faces off against these teams with the same degree of competitiveness.
This season, F&M's William Bauckham and Harmar Rappoport led the team in goals, Bauckham finishing with a total of 19 and Rappoport following closely with 18. In a similar manner, F&M's Luke Groff led the team in the net with a .835 save percentage and 5 wins for the Dips.
First-year Diplomat Club Ice Hockey player Dan Jussaume, who contributed 4 goals and 1 assist to the team this season, talked about his time on the team saying, "playing on the F&M Club Ice Hockey team is great because the team just has a lot of fun playing. We're all in there for each other and supportive of one another." His teammates are all "a close group of guys that are friendly, welcoming, and share a great community spirit in the locker room and on the ice."
Specifically, one memory from the season that has stood out to Jussaume the most was their second time playing Dickinson in the season. "It was a Friday night, the first game of three for the weekend. We were playing Dickinson for the second time and had lost to them earlier in the season. Everyone from F&M showed up and the whole game just had a great atmosphere to it. We ended up getting the win and it was just a fun game to play in overall."
While F&M Club Ice Hockey has wrapped up their season, with a 2-5 loss to Salisbury in the playoffs last Saturday, the Dips continue to practice. Getting better each and every day, F&M Club Ice Hockey strives to better their own record and plans forage ahead in the DVCHC playoff tournament next season. We'll just have to wait and see what F&M Ice Hockey will do next.
First-year Gabby Goodwin is the Assistant Sports Editor. Her email is ggoodwin@fandm.edu.