By Jamie Belfer || Sports Editor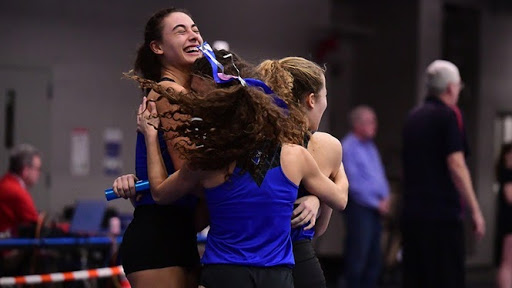 F&M hosted the track and field Centennial Conference Championships this past Saturday, February 29th and Sunday, March 1st. At the end of the first day of competition, the F&M women's track and field team finished in sixth place out of ten teams. The men's track and field team held down the ninth spot at the end of day one.
Many Diplomats set personal records on the first day. Both throwers, Emma Steffan and Rachel Caruso set new personal bests in the weight throw. Sophomore Emma Steffen clinched fifth place, throwing an impressive distance of 12.88m. First year Rachel Caruso finished 12th with a personal best of 9.23m.
The women's relay teams excelled on the first day as well. Sophomore Laura Greene, senior Emily Natoli, first year Sydney Dzenutis, and sophomore Alexis Salerno came in third place in the distance medley with a time of 12.28.29 to bring home a bronze medal. Emily Natoli, first year Abby Lienhard, sophomore Kate Klaver, and senior Sabrina Piccinini came in eighth place in the 4x200m relay with a time of 1:56:51.
Members of F&M's men's track and field also excelled on day one. Junior Aaron Digregorio finished in 9th place in the prelims of the 60 hurdles with a time of 9.68. Meanwhile, sophomore Isaiah Chery finished 9th in the prelims of the 60 dash, with a time of 7.31. Chery, DiGregorio, junior Harley Wedholm, and junior Ryan Braun finished fourth in the 4×200 with a time of 1:36.28, just four seconds away from the bronze.
At the end of the first day of competition, Johns Hopkins led both the women's and the men's teams by earning the highest number of points. The women's team garnered 97 points, while the men's team earned 51 points.
The Diplomats had a fantastic day two at the Centennial Conference Championships. The biggest, most impressive win of the day for F&M was the women's 4×800 race. Sophomore June Sanchez, Alexis Salerno, sophomore Laura Greene, and first year Sydeny Dzenutis set a Centennial Conference record with a time of 9.29.20. This time was more than one second faster than the Centennial Conference record, previously held by Swathmore. These runners are only in their first two years as collegiate athletes at F&M. It should be exciting to see if they grow and continue to increase their time in this relay for years to come.
The men's 4x800m relay team of Harley Weldhom, first year Alexander Fillman, Ryan Braun, and first year Jack Emrey finished in fourth place with a time of 8:09:16. They were less than three seconds away from placing in third.
At the end of the second day, the F&M women's track and field team placed 8th out of 10 teams and the men's track and field team placed ninth out of nine teams. Both the men's and women's track and field teams for Johns Hopkins University finished in first place.
With the CC championships finished, F&M is moving into its spring season. They will compete in the Little Three Meet at F&M on Saturday, March 28th.
Sophomore Jamie Belfer is the sports editor. Her email is jbelfer@fandm.edu.