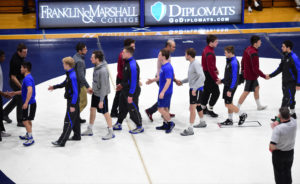 By Gabby Goodwin || Sports Editor
Against Sacred Heart this past Saturday, Franklin and Marshall's Wrestling team seized its third-straight dual win and first conference victory of the season with a score of 37-11. Before the start of the match, F&M honored its senior class of Sam Butler, Edgar Garcia, Dan Martoccio, and Josh Young.
F&M had six points go their way right from the start when Sacred Heart forfeited their 125-pound matchup. Martoccio (133 pounds) followed the forfeit by turning his opponent's shoulder on the mat with 49 seconds remaining in the second period for his fourth pin of the season, earning the Diplomats six more points the traditional way.
F&M's Brett Kulp, at 141 pounds, followed with a dominant performance, registering a takedown and eight nearfall point in the first period. The sophomore grappler put F&M ahead 17-0 by rolling to a 16-1 tech. fall.
After two-straight Sacred Heart match wins at 149 and 157 pounds, the Diplomat lead was cut in half, bringing the score to17-8. However, F&M's Jacob Conners, at 165, ended the Pioneer's streak, using a seven-point roll to a 12-2 major decision in the third period.
Josh Young, at 174 pounds, had a 9-1 major decision win that extended the F&M lead to 25-8. Young secured a pair of takedowns and nearfall points in the victory.
A 7-3 Pioneer decision at 184 brought the contest score to 25-11 overall. However, the Diplomats were able to secure their win and close out the contest with a pair of falls.
In the final matches of the competition, F&M's Philip Robilotto turned his opponent with less than 4 minutes left and F&M's Antonio Pelusi followed by putting the finishing touches on a Diplomat win with a fall just 11 seconds into the match.
The Diplomats return to action on March 3rd for the EIWA Championships hosted by Hofstra.
Sophomore Gabby Goodwin is the Sports Editor. Her email is ggoodwin@fandm.edu.