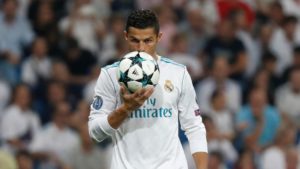 By Anna Goorevich || Op-Eds Editor
After a two-month hiatus, the competition in the UEFA Champions League has finally started to heat up again as the first leg of the round of 16 kicked off in mid-February.
The structure of the Champions League allows for a two-leg elimination round that consists of 16 teams. It is decided who each team will play in a random draw that took place last December. Each team plays their matchup twice and whoever has the best accumulated score over the two games gets to move on to the Quarter Finals.
Firstly, on February 13, Swiss team Basel were demolished 4-0 by English powerhouse Manchester City. While Manchester City undoubtedly received an easier draw in playing Basel, it was still impressive to see a wide distribution of goals by three different players, a testament to Manchester City's versatility.
In a more surprising result, English team Tottenham Hotspur tied Italian giants Juventus 2-2. In one of the more highly anticipated matchups, Tottenham found themselves down 2-0 within the first 10 minutes.
However, Harry Kane, one of the best strikers in the game today, came to Tottenham's rescue before Christian Eriksen tied the game off. Because of this result, the second leg in March is crucial for both teams if they want to move on to the Quarter Finals.
One of the most talked about matchups of the Round of 16 was Cristiano Ronaldo's Real Madrid versus Neymar's Paris Saint Germain. Stakes were especially high for this game, which ended 3-1 in Madrid's favor, since Paris Saint Germain were expected to perform well in this Champions League after spending absurd amount of money to buy both Neymar and Kylian Mbappe, two of the best players in the world.
However, there has been much criticism over Paris' team as they failed to impress against Madrid, causing many to wonder if spending so much money over the summer was a waste. It is extremely important for Paris to perform well in March in the second leg in order to prove their worth.
English teams appear to be dominating this Champions League season, as evident by Liverpool FC's 5-0 defeat of Portuguese team FC Porto.
The score 5-0 also seems to be popular as German Team FC Bayern Munich defeated Turkish Team Besiktas by the same margins.
Additionally, Manchester United tied against Spanish team Sevilla FC 0-0, making the next leg especially important for both teams.
Overall, the Champions League never fails to bring excitement to soccer fans. The games that were played these past few weeks set up for a thrilling conclusion to the Round of 16 next month as teams and fans anxiously await to see who will move on to the Quarter Finals.
First-year Anna Goorevich is the Op-Eds Editor. Her email is agorevi@fandm.edu.