By Amy Schulman, Layout Assistant ||
*DISCLAIMER: Language my not be suitable for all audiences.*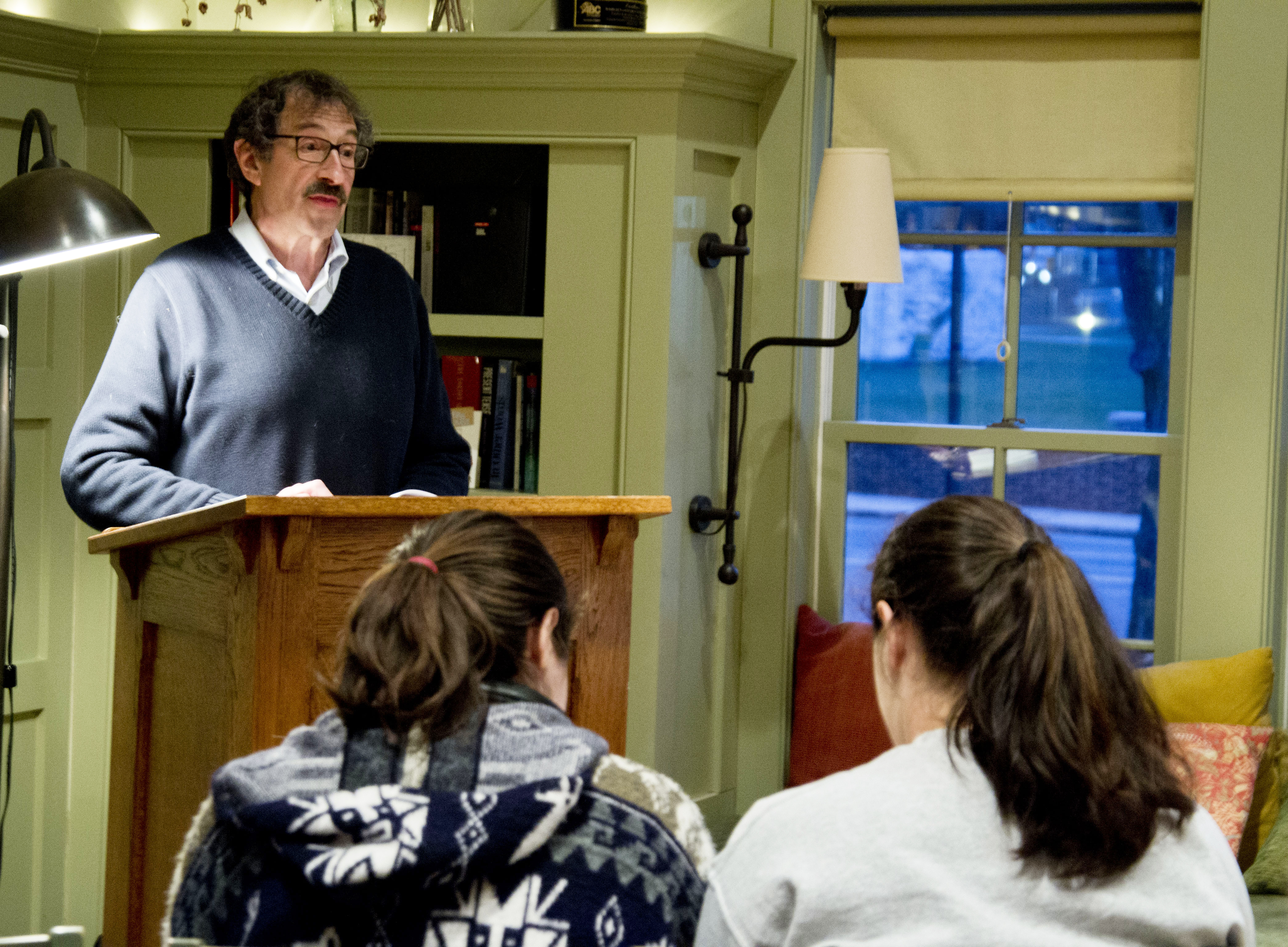 Last Wednesday, David Stameshkin, visiting scholar of history and former associate dean and House prefect for Bonchek College House, gave a reading in the Philadelphia Alumni Writers House from his recent book, The F**ket List: Things I Will Not Be Doing Before I Die. Stameshkin retired from F&M in 2012, after 34 years with College in various capacities, according to the F&M Magazine article "A Bittersweet Farewell to a Most Happy Fellow." He held several jobs throughout his life, ranging from a professor to a dean to a taxi driver. While at F&M, he mentored hundreds of students, taught as a professor in the classroom, won several awards, and raised hundreds of thousands of dollars for worthy causes.
Stameshkin began his reading on a humorous note.
"[It] reads suspiciously, at times, like a memoir," he said, which caused thunderous laughter from the crowd.
"As I approached retirement recently from Franklin & Marshall College, I noticed that just about everyone else in the world seemed to have a bucket list, that is a compilation of all the things that they wanted to do before they die.
"I thought I should have a bucket list too," he continued
As he began writing his book, he realized there are as many things he is certain he does not want to do, or knew he could not do, as there are things he wants to do and could potentially accomplish.
"In addition to making a bucket list, I started making a fucket list, that is things I am not going to do before I die— things about which I would just say 'fuck it,'" Stameshkin said.
Before Stameshkin even started writing the book, he contemplated writing down his escapades as cab driver during college for two summers in Chicago. He later incorporated these experiences as part of his fucket list.
"In 1996 I had just finished writing a two-volume history book [on Middlebury College], and I had been working on it for 20 years," Stameshkin said. "As an administrator, we only get three to four weeks of vacation. I spent every vacation I could working on my Middlebury history. When I finished, I was so excited that I wanted to do something special. I always wanted to write my cab
stories up."
Stameshkin spent his next vacation that year transcribing all his cab stories and compiling them into one book. Once he retired from F&M, he came up with the idea of a fucket list. In addition to the cab stories he had written, Stameshkin wrote more short essays that fell on his fucket list.
At the reading, Stameshkin stood behind a podium in front of an audience including students, faculty and alumni. He was welcomed by deafening applause as he quickly shifted to telling a little bit about himself and the book.
"Tonight I'm going to read mostly about one of the careers I decided not to do and that's to be a cab driver," he said.
The audience was immediately captivated as Stameshkin transported the crowd into the hilarious mayhem of his cab-driving experiences. The short excerpts revealed Stameshkin's journey into the 20th century work world, only to discover how unpredictable and illogical the career world can be. He delivered hilarious and sad narratives, channeling each character and adjusting his voice to impersonate them, as well as imitating accents and eliciting constant laughter.
After his reading, he was asked if he would consider writing another book.
"I don't know yet," Stameshkin said. "I've gotten a great response from this book. They really like it. It's really nice!"
To the roaring applause from the crowd, the reading ended, and Stameshkin was immediately swarmed by attendees interested in purchasing the book and receiving an autograph.
"It's been a lot of fun to do this," Stameshkin concluded.
The F**ket List is on sale in the F&M Bookstore and booksellers nationwide.
Sophomore Amy Schulman is a Layout Assistant. Her email is aschulma@fandm.edu.