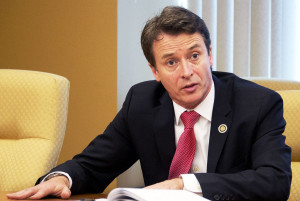 By Steven Viera|| Senior Editor
At Mount St. Mary's University in Maryland, faculty opposition to a plan to improve the school's retention rate has led to multiple firings by Simon Newman, president of the University. These firings have drawn national attention, prompting a debate on the importance of tenure and inspiring protests by members of the higher education community.
David Rehm, provost at Mount St. Mary's, was dismissed from his duties as provost on Friday, February 5, although he retained his faculty position. According to the article "Provost Loses Job After Opposing "Bunny-Drowning Plan" published on Inside Higher Ed, Rehm challenged Newman's plan to bolster the University's retention rate. While Mount St. Mary's retention rate sits above the national average—66 percent graduation for six-year full-time first-time students and 78 percent of first-year students return for a second year—Newman aimed to increase those numbers so that they aligned more closely with other small, liberal arts colleges. His plan included distributing a survey to first-year students, who would be told there were no wrong answers, then using their responses to determine which first-years to encourage to drop out early.
"My short-term goal is to have 20-25 people leave by the 25th [of September]," Newman said in leaked emails to the Mount St. Mary's faculty. "This one thing will boost our retention rate 4-5 percent. A larger committee or group needs to work on the details but I think you get the objective."
Rehm and others raised issue not only with the plan itself, but also with the language that Newman used to describe struggling first-year students.
"This is hard for you because you think of the students as cuddly bunnies, but you can't," Newman said to the faculty. "You just have to drown the bunnies…put a Glock to their heads."
Following Rehm's dismissal, two other faculty were fired, including Thane M. Naberhaus, former professor of philosophy at Mount St. Mary's University; Naberhaus was a tenured professor whose firing came without any advance notice or professional review. Newman, in his message firing Naberhaus, accused him of disloyalty to the University for speaking out against the president's policies and forbade him from re-entering the campus.
"I love this institution and what it's been and what it could be," Naberhaus said in response, as reported by the article "Purge at the Mount" published on Inside Higher Ed. "I think I've been loyal to the Mount. Who determines that I'm not loyal? And how? How can you fire someone this way?"
The other individual fired was Edward Egan, an alumnus who had been serving as faculty adviser to Mount St. Mary's student newspaper, The Mountain Echo. According to "Purge at the Mount," last month, The Mountain Echo published details surrounding the debate over retention rates along with Newman's comments. The nationwide Student Press Law Center condemned this firing, citing concern over Newman's apparent attempt to censor and control the discourse on campus.
Faculty at Mount. St. Mary's recently founded a chapter of the American Association of University Professors (AAUP) with a total of 12 members, but the firings brought its membership down to 10. On F&M's campus, the local AAUP chapter drafted a petition and called for professors to sign it.
"As a university, it is bound by the standards that govern any such institution in respect of its faculty," the petition reads. "We call for these faculty to be reinstated immediately, and the administration held accountable for this violation of their rights."
However, in the week following the firings, Newman reinstated the faculty he dismissed, although Rehm will not return to his position as provost and Naberhaus has vowed not to return as long as Newman and other administrators remain at Mount St. Mary's. Furthermore, according to The Baltimore Sun article, "Fired Mount St. Mary's faculty reinstated after public furor," the faculty of the University voted 87-3 to ask for Newman's resignation.
Senior Steven Viera is the Senior Editor. His email is sviera@fandm.edu.