By Molly Sproul || Website Manager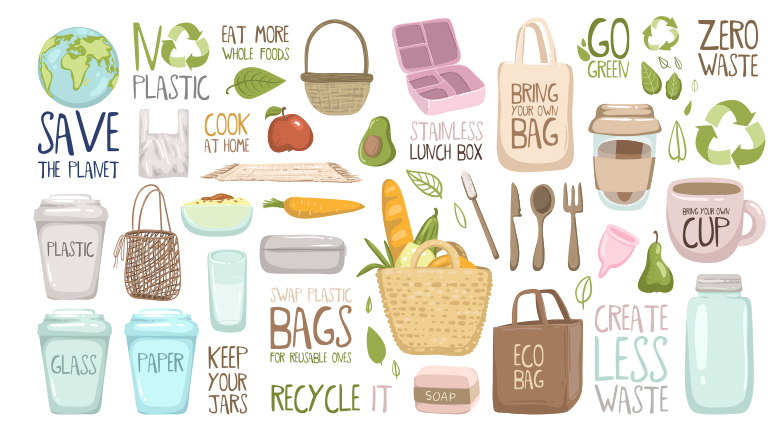 Stuck in quarantine and bored of binge-watching clips of Parks and Recreation on YouTube, I stumbled upon "The Ugly Truth Of Fast Fashion | Patriot Act with Hasan Minhaj." It is a 30-minute video diving into fast fashion companies and how their practices harm the environment.
The production and discarding of clothes is a major source of waste; Minaj highlights that the average American throws 80 pounds of clothes away every year. Stores like H&M and Zara have been accused of "greenwashing," which is "to make people believe that your company is doing more to protect the environment than it really is" (Source). H&M's recycling bin, in which you can return clothes to the bin and receive a coupon for your next H&M purchase, is a prime example. Once clothes are returned, customers then spend even more money at H&M on more clothes that may end up in the bin later. The catch? Almost 90% of the clothes end up in the trash or burned, while H&M still appears as a "sustainable" brand.
According to nielsen.com, 55% of consumers are willing to pay a higher price for more sustainable goods, a fact that many brands try to capitalize on. As I myself fit this statistic, I believe that it's important to actually look into how companies define "sustainability." Words like sustainable, green, eco-friendly, and ethical have no set definition. On his program, Minhaj discussed a 434-page report by Inditex, a multinational clothing company that owns Zara, claiming that "88% of their waste is reused or recycled." However, those 88 percent don't include waste from their over 7,200 stores or the thousands of factories they use. For me, if a company isn't boasting about its sustainability practices and specifics, they may be hiding something about their environmental practices.
How I began my journey:
As I started researching more about a zero-waste lifestyle, I began to get more targeted ads on my social media feeds for zero waste brands. The most notable and common ad was for Pela, a company that offers plant-based phone cases, Apple Watch bands, and AirPods cases that are completely compostable. I was not entirely convinced it was the zero-waste I was looking for, but I looked into reviews of the company and its mission statement and found it to be right up my alley. A week later, my new phone case arrived in compostable packaging, and I was thrilled to begin my journey.
The next step I took was online thrifting. Since the pandemic had begun, I started using online delivery and shopping more frequently than I would have liked. A friend of mine has an online thrift store that I wanted to support. I bought some simple tops, picked them up from her house on my way to work, and eliminated my urge to buy new clothes.
As I prepared to return to campus, I also thought about my food shopping habits: the grocery bags I use, the plastic bags I put fruit and vegetables in, and the plastic packaging of products that I bought most often. I began using reusable and compostable items such as produce bags, food covers, shopping bags, mason jars, and parchment paper and urging my roommates to invest in them, too. I also make it a priority to get many of my ingredients from Lancaster's own Central Market.
Looking ahead, I have started transferring my skincare and bath products to zero-waste alternatives like Meow Meow Tweet and Lush. Both of these companies are very transparent about their packaging, environmental impact, and chain of production. But my journey has only just begun, and I hope I can inspire you to begin yours.
Helpful Tips on how you can start:
F&M preaches about the importance of recycling, but did you know we can't recycle paper here?
Know-how and where to recycle. Did you know that you can only recycle these 4 things in Lancaster?
1. Aluminum and steel cans and their metal lids
2. Glass food or drink jars and bottles (brown, green, or clear)
3. #1 and #2 plastic bottles and jugs, with necks. Caps should be removed and discarded.
4. Brown corrugated cardboard.
Things you CANNOT recycle:
Paper (printer paper, newspaper, books)
Non-corrugated cardboard (Cereal boxes, egg cartons, paper bags)
Store-drop off recycling (this includes amazon plastic packaging, you can find where to recycle those here)
You can recycle paper but only if you drop off: https://www.cityoflancasterpa.com/recycling-center/
Vote like the Earth depends on it. Did you know that it's an election year? Check your voter registration status (for PA residents) here. Pennsylvania is a swing state, which means your vote does count. Learn more registering in Lancaster here.
Do your research. Find a zero-waste brand that you love. See who they endorse and partner with; those businesses are likely to have similar habits in regards to production and shipping. Not sure where to start? Check out this article on how to tell if a business is eco friendly or look for a Green Seal Certification. Don't want to click those links? See the list of brands that I love at the bottom of this article.
Replace one-time-use products with reusable ones. This includes K-cups, shopping bags, plastic utensils, dryer sheets, and straws. See my list down below for better alternatives.
Shop Local. Not only is it good to support small businesses during a pandemic, but you can also find unique items that don't have to be shipped to you.
Reduce waste by not buying things. I know that's easier said than done, but every time you have the urge to buy something, ask yourself: do I need this? This also applies to free bags, stickers, and t-shirts that you may get as part of a promotional deal or club on campus. If you truly do not need it, you will end up throwing it out at the end of the year.
Do it with friends. You can carpool with others or start a compost bin with your roommates. You can split the cost of mason jars and other reusable containers.
Start small, and don't rush. You shouldn't expect to nail it all in one day. First, use up what you have, and as you run out, get a more sustainable replacement. Also, don't beat yourself up over mistakes. Forget to ask for no straw? Need something in a pinch? It's okay! Just try to remember for next time. The important thing is that you are aware of the impact that you can make.
Here are some businesses that I love!
Blueland: Cleaning supplies, laundry tablets
Lush: shampoo, conditioner, skin products:
Simple Ecology: mesh produce bags, reusable container covers, mason jars,
Pela: compostable phone cases, AirPods cases, and apple watch bands
Meow Meow Tweet: face and skincare products
Who Gives a Crap: toilet paper, tissues, paper towels
Dropps: laundry needs, dish detergent pods, and much more
Friendsheep Wool: wool dryer balls that even cut down on drying time
Package Free Shop: kitchen, bathroom, and self-care products, plus zero waste kits
Make sure to check out F&M's own Environmental Action Alliance
Got more websites? Feel free to contact me, and I can update this list!
Senior Molly Sproul is the website manager. Her email is msproul@fandm.edu