By Kathy Hirsch || Contributing Writer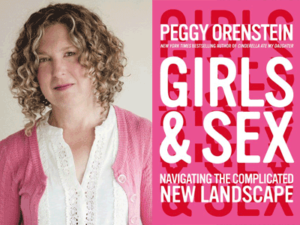 On Thursday, March 30, F&M students gathered for this week's Common Hour presented by The New York Times Magazine writer Peggy Orenstein on her latest novel, Girls and Sex. Orenstein is also the author of Cinderella Ate My Daughter, Waiting for Daisy, Flux, and Schoolgirls. Her talk delved into the concept of feminism and the feelings of young women today about sex. As Orenstein said, this book is about "what happens after 'yes' ". 
For Girls and Sex, Orenstein interviewed 70 young women between the ages of 15 and 20, who were all college bound. With this demographic, she found she could gather information on a wide variety of stories and experiences that could apply to many young women.
Orenstein first spoke about the increasing pressures to be "effortlessly perfect". Girls in these times, she said, have more opportunities than in previous generations to have positions of power and to study whatever they choose. However, a dangerous factor is that young women believe that to be successful they must be intelligent and strong while not showing any physical flaws. In a sense, they strive to be perfect without showing any weakness.
Not only are girls affected by the concept of being "effortlessly perfect" but the rest of society is also raised to expect that as well. At high school and college parties, Orenstein found that the young women she interviews are expected to go looking sexy for men in order to satisfy. And that need to satisfy then applies to sexual interactions.
In her interviews with the young women, Orenstein found that involvement with oral sex begins at a younger age. It also only tends to go one way. Women are found to say, more so than men, that they qualify satisfaction for a sexual encounter as one without pain and where their partner is satisfied, not necessarily themselves. So Orenstein explains that even in an age where women are raised to have the independence and power to speak up, not many young women do so in sex.
In high school health classes, Orenstein explains how the majority of the curriculum is about the dangers of sex: harassment, abuse, and unwanted pregnancies. She continues that those are all valid concerns. However, Orenstein shared a story from an interaction with a Dutch family on how they educate their children about sex. The family responded first that they teach their teens about the responsibility of balance and caring in sex followed by the importance of being protected and possible consequences.
Could a difference in sexual education change the high school and college sex culture?  Maybe, but Orenstein concludes that it should be an acceptable norm for young women to ask for equal satisfaction in sex. In an analogy about a glass of water she explained to her interviewees, "How would you like it if, when he asked, you always got him a glass of water? Then when you asked, he said, 'You want me to get you a glass of water?" Young women should feel comfortable to ask for equal satisfaction in sex. If, Orenstein closes, women are to have true equality outside of sex, the stigmas within sex must catch up to the times.
First year Kathy Hirsch is a contributing writer. Her email is khirsch@fandm.edu.