By Teagan Durkin || Contributing Writer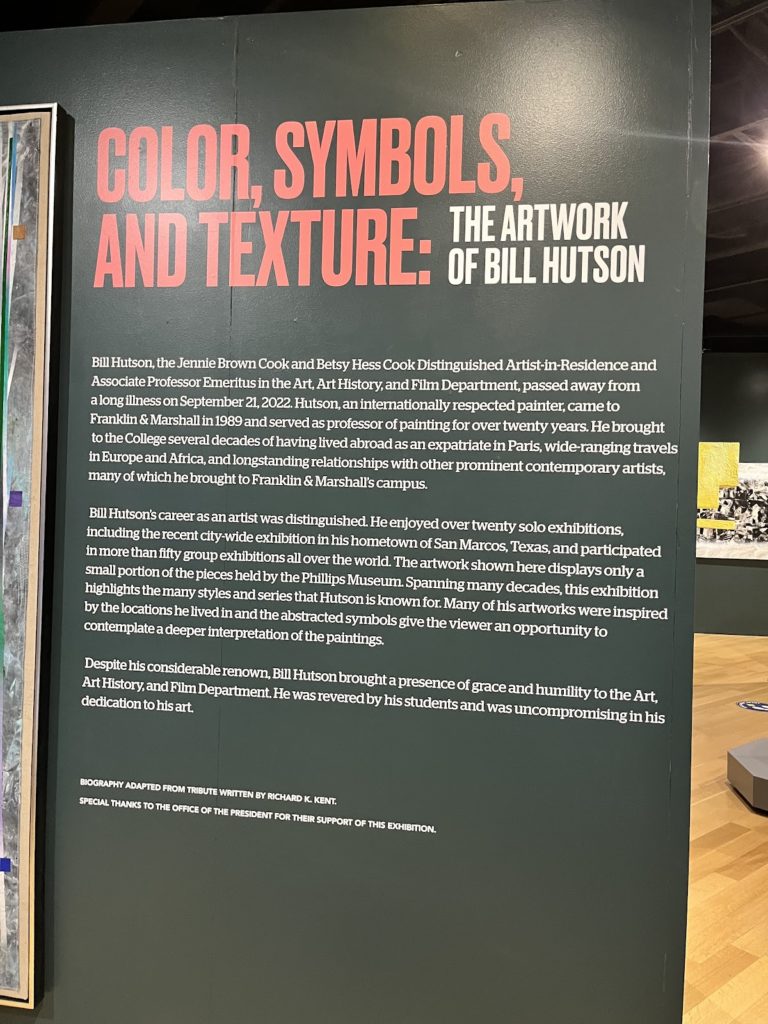 The posters appeared on a Wednesday. A collection of four, laminated and colorful, with distinct titles that all proudly advertise the Phillips Museum's new spring curation.
You can visit the Phillips Museum and explore any of these exhibitions, and all of them will be going on until April 27th. Visit to appreciate the current curation, to wander around a quiet atmosphere, or just to do homework in the basement.
The last one is most likely allowed. If not, the faculty is kind enough to let you down gently.
All of the exhibitions are carefully crafted and thoughtfully provoke viewers to further contemplate past and present artists, the exclusivity of distinguishing between 'art' and 'crafts,' and the necessity of art to life. In particular, when one first enters the museum, they are struck by the Bill Hutson exhibition, Colors, Symbols, and Textures. Although this is not Hutson's first exhibition at the Phillips, given his long ties to F&M since becoming a professor of painting in 1989 and staying for over twenty years, this exhibit evokes a particularly profound feeling within the viewer. Composed of only a few of his pieces within the museum's overall collection, the selected works aim to highlight specific points in Hutson's life and his foray into abstraction and other artistic expressions.
After living abroad in Paris, Hutson then traveled extensively throughout Europe and Africa. His professional career spanned over twenty solo exhibitions and more than fifty group exhibitions, many of them international. Although Hutson sadly passed away on September 21, 2022 after battling a long illness, his life and his brilliance lives on in the Phillips.
To better understand the exhibit, curator Janie Kreines and Phillips student employee Julia Rinaudo were interviewed for their perspective on the interaction between the art and the students, as well as the guiding principles behind the collection. Regarding the latter, Kreines commented that the museum staff wanted the exhibition to be a "mini retrospective of Hutson's work." In this way, Colors, Symbols, and Textures encompasses a "variety of mediums that Hutson used, including acrylic and oil paint, fabric and burlap, graphite, ink, and watercolors showcased in 2D and 3D works." Archival photographs of Hutson creating his work also play into the exhibit, and encourage a closer, more intimate interaction between viewer and creator. Rinaudo put forth how the exhibit draws work from different points in Hutson's life and professional career, as well as demonstrating his growth in abstraction over time. Although the pieces become more "monochromatic," they also show a greater "manipulation of fabric and texture."
Visit the Phillips Museum. Find yourself drawn to one piece, or come to appreciate several. Stop in while waiting for your meal buzzer to ring for the food court, or during a brief run through the CCE in between classes. Take away what you will, and simply enjoy the beauty, life, and vitality of Bill Hutson's work.
Teagan Durkin is a Contributing Writer for The College Reporter. Her email is tdurkin@fandm.edu.