By Zoe Robinson || Contributing Writer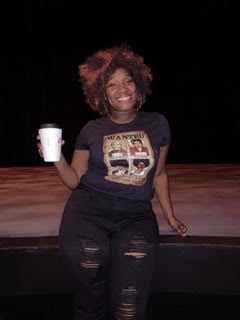 This past weekend, I attended Apollo Night, a show put on by F&M junior, Rawchaayah Charles, in celebration of Black History Month. Rawchaayah, or "Rocky," as some of her friends affectionately call her, is a force to be reckoned with. I've had the great honor of knowing Rocky since our freshman year at F&M. She's the type of person that when she speaks, you listen. When I found out about Apollo Night, I was excited to go and only thought of it as a simple closing event for Black History Month, where a few people would sing a song or two. What I did not expect, however, was the depth of creativity, passion, and pride in the Black identity reflected on stage.
Rocky hails from Brooklyn, New York, but she grew up within the Caribbean culture that her family brought with them when they immigrated from Jamaica and Haiti. When I asked her what inspired her to put on the event, she responded simply, "to get all the black people together." She wanted to bring the community together and saw Apollo Night as the perfect opportunity. The idea slowly began last semester, but in the end, it turned into something that she never quite expected. Her thoughtfulness and love for her community is clearly reflected not only in the performance itself but the way she talks about the planning process as well. For her it was important that "every person felt involved and was hands on."
One core idea that ran through the performance was that identity isn't one-dimensional, not even within the black community. Coming to F&M was one of the first times that I had been able to talk to people within the African diaspora who proudly expressed the melange of their various cultural backgrounds. She was very conscious about showing off the different identities within blackness and wanted it to be a cross-cultural event. Through every step, Rocky said that she "talked to people who came from a host of different backgrounds, such as Africa, the Caribbean, and people who identify as Afro-Latina throughout the planning process."
She also choreographed the entire thing, aside from the Latin section. Her research was extensive. She noted that she would "spend hours watching youtube videos of specific types of dance" and then would go to the studio and practice. While she began to formulate the idea last semester, she told me that "practice didn't really start until February, and I actually changed everything from what I had previously planned." Her only rule was that the performers had to be black and in that she wanted to showcase that within being black, "we are all different which is so beautiful. Everyone brings so much to the table, and I think it's super important to show that we are all not the same, which is fun."
From the audience, I felt the enthusiasm of all the dancers and the pride that they felt in their identities. Rocky had given them a literal stage and they were able to create a space for themselves in a society where the only art forms that are appreciated and praised are very eurocentric. The dancers and the singers all expressed their gratitude for not only having the opportunity to show off their craft but also to be included in the project. It was evident not only to them but to me as an audience member that the personal impact the performance had on the black community was even bigger than we could have imagined.
The ideas of belonging and identity can be complicated ones. From what society tells us to what we tell ourselves, we carry experiences with us that colors how we view ourselves in relation to our community. For me, it was very affirming to see my identity on stage, and even though I might not have known every person there, the pure joy on their faces while performing made me feel like I was cheering on my best friends.
Throughout our interview, it was clear to me that Rocky was intentional in reflecting her love for her community in the performance. What Rocky was able to do wasn't an easy feat. It was something that all true black creatives strive to do: write a love letter to the black community. Black is beautiful, talented, multidimensional, and something that can hardly be summed up in an hour's performance. However, she was able to capture it. Walking out of the performance, I knew I had just witnessed something that words could not explain. I felt myself thanking Rocky and my community for showing me how to love my blackness just a little bit more than I had before.
Junior Zoe Robinson is a Contributing Writer. Her email is zrobins1@fandm.edu.