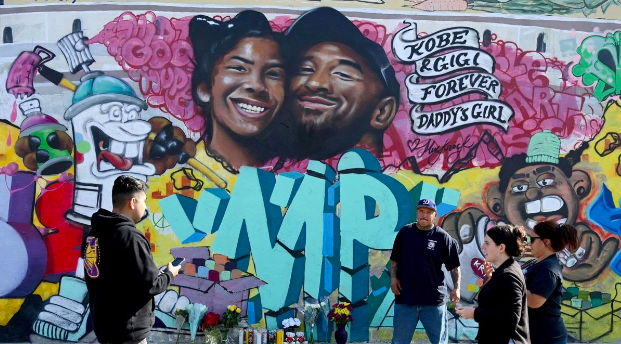 By Luke Streett|| Contributing Writer
On Sunday morning, a helicopter containing nine passengers fatally crashed into the hillsides of Calabasas, California, killing all passengers including NBA legend Kobe Bryant and his daughter Gianna. The initial news of the crash was just speculation, as bystanders saw what they thought to be Kobe's helicopter falling from the sky. This led to a media frenzy, with some initial reports claiming that all four of Kobe's daughters were in the helicopter, some claiming that none were in the helicopter, and others claiming that ex-teammate and former NBA champion Rick Fox was on board. When the dust settled, reporters confirmed that it was Kobe, his daughter Gianna, the pilot, and teammates and parents of Gianna's "Mamba Academy" youth basketball team. The helicopter was on the way to one of Gianna's basketball games for "Mamba Academy" to be coached by Kobe himself.
The death of Kobe shocked the basketball community to its core, not only in the NBA community but throughout the world. Kobe memorials have begun to pop up around the globe, starting in Los Angeles, spreading throughout the United States to places like his high school alma mater, Lower Merion High School in Philadelphia, and even in Italy, where he lived until the age of 14. Basketball has become an increasingly global game within the last twenty years, much in part due to Kobe Bryant. Kobe ran basketball camps throughout Europe and Asia, and the shock of his death has reached all ends of the globe. NBA players and coaches honored Bryant during Sunday's games, running the clock out for eight-second backcourt violations and 24-second shot clock violations, honoring the two numbers worn by Bryant during his 20 year NBA career. Many NBA coaches wore Bryant's signature Nike shoe to honor his legacy while coaching this past week. ESPN analysts were also visibly moved by the news, as many analysts had personal relationships with Bryant and were moved to tears while covering the story.
Bryant's father played in the NBA and eventually played overseas in Italy for a number of years to continue his professional career. This is where Bryant watched his father play and where he initially fell in love with the game of basketball. He moved back to the US at age 13 and rose to fame as a standout at Lower Merion High School. He decided to skip college and go straight to the NBA at the age of 17, and was drafted in the first round then traded to the Los Angeles Lakers. NBA legend Jerry West famously watched Bryant workout only one time and immediately knew he would be a star, deciding to trade for him on draft night. Kobe played 20 illustrious seasons in the NBA, winning five championships, one MVP, and countless other accolades, including his famous 60 point final NBA game in the Staples Center.
What made this fatal helicopter crash even more tragic was the death of Kobe's 13-year-old daughter Gianna, or Gigi. Gigi was a budding basketball star, and Kobe was very involved with her career, coaching her team and advocating for the growth of women's basketball across the world. Kobe had spent much of his short three years of retirement coaching Gigi for his own "Mamba Academy" youth team, and was on his way to, in true Kobe fashion, pushing her to pursue pro basketball dreams. The loss of both Kobe and Gigi is a massive loss for the development of women's sports in the US, and is one of the many reasons why Bryant and his daughter's death is so tragic.
Bryant may be gone, but his legacy will last forever. Jerry West, the former Laker, and current NBA logo has in the past advocated for the NBA's logo to change. Petitions have begun to circle about changing the logo from Jerry West to Bryant, something that would immortalize his legacy forever. Whether or not this happens, basketball fans will remember Kobe's passion, competitive spirit, and his commitment to getting better. The "Mamba mentality" was a term coined to describe all of these things and will always be a way to immortalize Bryant's passion for the game and his desire to get better.
Luke Street is a Junior and Contributing Writer, his email is lstreett@fandm.edu