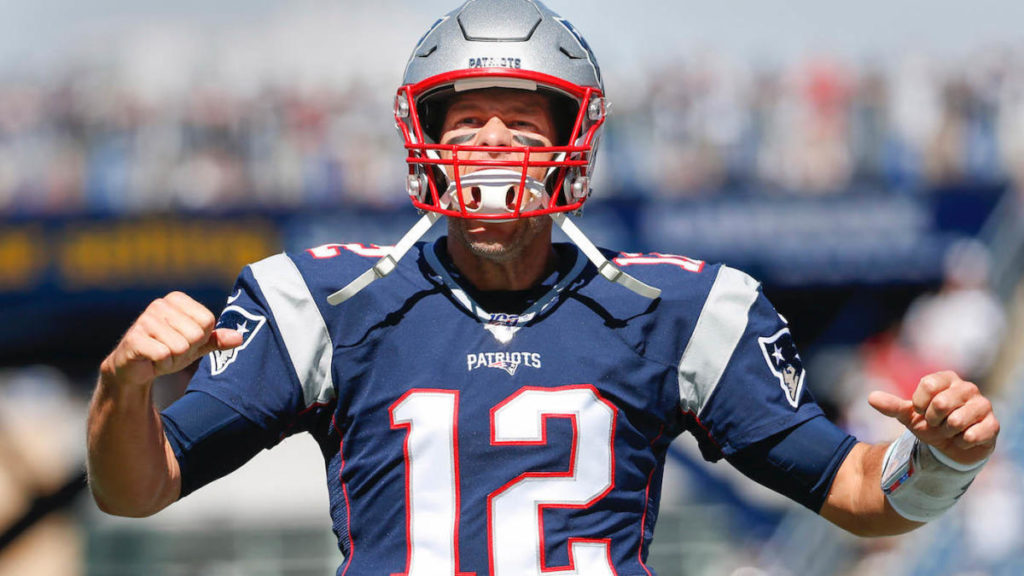 By Jamie Belfer || Sports Editor
Tom Brady may be one of the greatest football players of all time, and his career seems to be far from over. At 42 years old, Brady is the second oldest player in the league and still a dominant force on the field. While some questioned whether or not he would retire after his contract with the Patriots was up, Brady remained definitive in his answer that he would continue playing football (nfl.com). After 20 years of being a New England Patriot, Brady begins a new chapter in his football career as he joins the Tampa Bay Buccaneers under a two-year, 50 million dollar contract (ESPN).
Tom Brady was drafted in the 6th round by the New England Patriots in the 2000 NFL Draft (199th overall).  After being the backup to Drew Bledsoe for his first and part of his second season as a Patriot, Brady became the starting quarterback in his second season after a Bledsoe injury.  Tom Brady and the Patriots never looked back as he earned his spot as starting quarterback and subsequently led the Patriots to nine Super Bowls and six total Super Bowl championships (pro-football-reference).  After the Patriots' most recent Super Bowl win against the Rams, Tom Brady became the only player to have been a part of six Super Bowl victories (nbcnews.com).  
Tom Brady's career with the Patriots was marked by immense success. Brady and the Patriots made it to the playoffs in 17 out of the 18 seasons in which Brady was the starting quarterback (nfl.com). Brady was a 14 time Pro Bowl Selection and a 3 time NFL MVP (pro-football-reference). Brady came into slight trouble after the Deflategate scandal and his four game suspension, but he had an overall dominant and successful career with the Patriots. Yet, just as all good things must come to an end, so too did the Brady-Belichick dynasty.
There were several clues that hinted at Tom Brady's decision to leave the Patriots and finish his career with another team. In August of 2019, Brady and his wife put their house in Massachusetts up for sale. Brady's Trainer, Alex Guerrero, also made the move to sell his house (nbcsports.com). In mid-January, reports stated that the suite where Brady's family watched home games at Gillette Stadium was cleaned out (msn.com). Additionally, there were reports stating that the Patriots had offered Brady a new one year deal for 2020; however, Brady would be earning less money than he had earned in the previous season (si.com). With these clues, one could suspect that Brady would be ending his career in a different uniform.
After becoming a free agent for the first time in his career, Tom Brady announced to the Patriots and Patriot fans that he would be moving on to a new organization. With a future hall of fame quarterback on the market, it seemed as though two teams had a shot at landing Brady: the Los Angeles Chargers and the Tampa Bay Buccaneers. After saying goodbye to long-time quarterback Phillip Rivers, the Chargers were on the hunt for a new starting quarterback. The Buccaneers' lack of success with an inconsistent Jameis Winston at quarterback also led to their interest in free agent Tom Brady.
On March 20th, Brady ultimately chose to play for the Buccaneers under head coach Bruce Arians. There were many incentives that brought Brady to the Buccaneers. Brady's son lives in New York, and Tampa Bay is closer to New York than Los Angeles. Additionally, Tampa Bay had the money to pay Brady about 30 million dollars per year. After years of taking pay cuts from the Patriots, this number would be a substantial increase from what the Patriots had been paying Brady. The Tampa Bay roster is also filled with star-studded wide receivers like Mike Evans and Chris Godwin, in addition to talented tight end O.J. Howard. The Super Bowl of the upcoming season is going to be played in Tampa Bay. Who could think of a better way to start off a season with a new team than to win the Super Bowl in their home stadium? (sportingnews.com).
Yet, the Buccaneers have not made the playoffs since 2007 (pro-football-reference). As Tom Brady continues to age, one might wonder if he has the strength and talent to turn the Bucs into a Super Bowl contender. Will Brady be a one-team wonder, or will he rise to the challenge and drive the Buccaneers to a Super Bowl?
Sophomore Jamie Belfer is the Sports Editor. Her email is jbelfer@fandm.edu.