By Abigail Sokolsky || Layout Assistant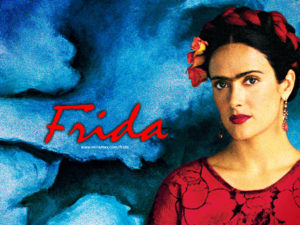 Though Frida, a biographical film drama of the life of Frida Kahlo de Rivera, was released in 2002, it has recently come under the limelight once again in the wake of the "#MeToo" movement. Frida follows the life of the renowned Mexican artist known for her folk style paintings in the mid 1900s. Frida Kahlo is still hailed today as a feminist icon and major figure of the surrealist movement. This film, starring Alfred Molina, Geoffrey Rush, and Salma Hayek honors this important historical figure remarkably.
As a whole, Frida adheres to the actual life of Frida Kahlo, beginning with a traffic accident which was to shape her life and detailing the tumultuous relationship she would then enter into with Diego Rivera, a muralist of some renown during her lifetime. The film thus captures how ongoing health issues lead Frida Kahlo to a life as a painter when confined to her sickbed, and further suggests how the pain that follows her throughout life informs such paintings as The Two Fridas, Roots, and ultimately Without Hope.
Frida succeeds in drawing parallels between Frida Kahlo's life and the themes present in her paintings by including the paintings themselves within the film. For instance, following her failed pregnancy, the film shows Frida devastated in the aftermath of her failed pregnancy. With a traumatized fervor, Frida then begins to paint, creating the disturbing and poignant Henry Ford Hospital, an image of pain and loss. Following the death of Leon Trotsky, a communist leader and political refuge in Mexico, the film flashes between his assassination and her reaction upon hearing the news, showing her creating The Two Fridas as well as animating her within the painting. This cinematic decision to take a portrait image of Frida from within one of her paintings and animate it is visually stunning, a dynamic way of bringing a painting alive only made possible by motion picture, a way of reforming and paying homage to the original art.
While Frida Kahlo's life is thus accurately represented, there still remains the question of her sexual orientation. History does know that she was married to Diego Rivera and engaged in extramarital affairs, there is no evidence that Frida was interested in women, though she has been hailed as an icon of the LGBTQ movement, a symbol of confidence and pride. Why then, are there a number of scenes in Frida which both directly and indirectly allude to Frida Kahlo being romantically interested in women? The answer to this question is that the director of the film, Harvey Weinstein, insisted on the inclusion of such scenes due to an inappropriate and predatory interest in lead actress Salma Hayek, who played the role of Frida Kahlo in the film. Salma Hayek tells her story in an article entitled Harvey Weinstein Is My Monster Too published in The New York Times. Salma Hayek details the harassment she endured in her time working under Harvey Weinstein, joining a tragically growing list of victims who've spoken out against Director Weinstein this past year.
Junior Abigail Sokolsky is a layout assistant. Her email is asokolsk@fandm.edu.