By Amani Dobson || Campus Life Editor
On May 30th, 2020, a rally for the Black Lives Matter movement was held in Harlem on 125th street. After seeing the way the peaceful protest in Flatbush the night before quickly turned violent, my friends and I were a bit scared about going to the rally. Our parents were scared for us, as well, but on my end, my mother knew that this was something I, as a black woman, must attend. I could not sit at home signing petitions all day. I wanted to be out there making my voice heard.

Upon first arrival, the rally was peaceful. A crowd of people surrounded a microphone, and speakers went up to it one by one to share their words with the crowd. One voice in particular that stood out was Yusef Salaam's mother. She was at the rally, and shared her words with us. The line of hers that struck me the most was,"You don't have to commit a crime, all you have to do is look black." It resonated with me because it's a pure fact. So many of the ways police initiate arrests involve racial profiling. Take "Stop and Frisk," for example. Police officers used that as an excuse to target black and Hispanic men that they deem "suspicious." The rest of the rally involved multiple speakers continuing to share their stories and advocate for systemic change.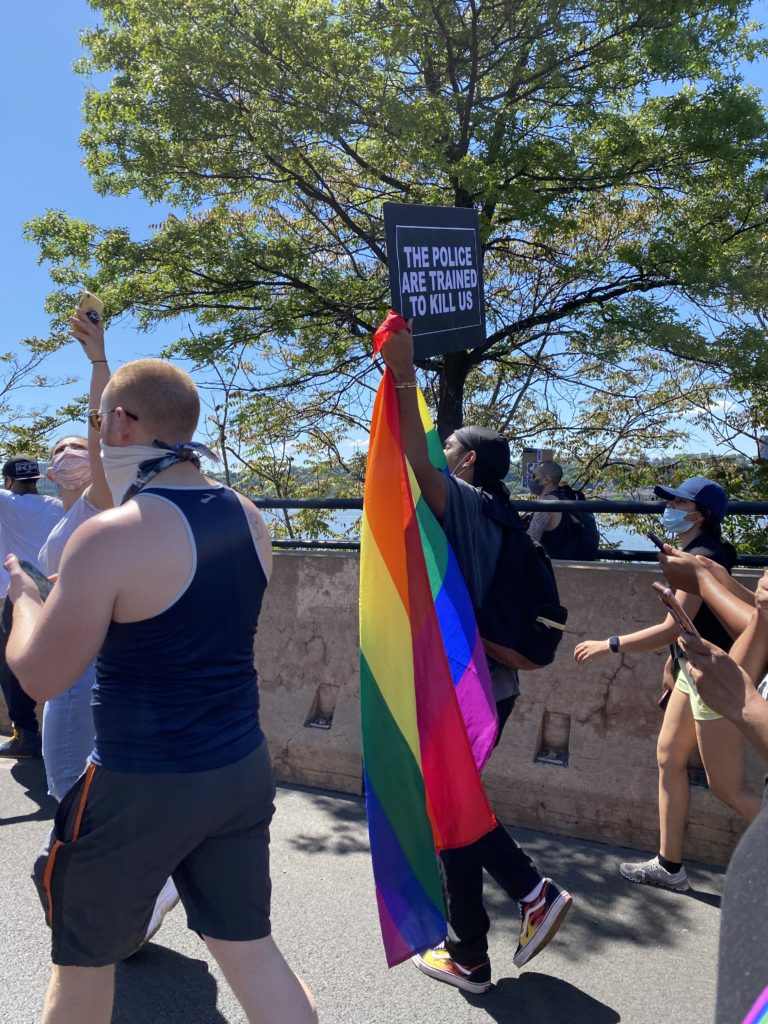 Eventually, a group broke off to begin marching down the street, so we joined them. As the march began, people were chanting "No justice, no peace." We marched and chanted down a few streets before we came across a line of NYPD cars sitting in the street. People cursed and stuck up the middle finger at them and continued to chant as we walked by. The march went on down a few more blocks in Harlem until we reached the Riverside Park South highway. We stopped and gathered in the middle of the highway to put up our signs and continue chanting to stop traffic. As we walked down the highway, weaving in between cars, it was amazing when drivers would stick their fists out or even beep their horns in solidarity with us. Previously, the media had portrayed protestors to be violent, but the people in our community stood by us.

One specific car had the door open, and an older black woman stepped out with tears in her eyes thanking the youth for fighting for justice for black people. Seeing her cry, I could not help but think that she has probably been fighting for her own justice way longer than I have even been alive. It disheartened me to think that even though our ancestors and grandparents were protesting as well, not much has changed. We are still seeing our loved ones die at the hands of those meant to protect us. The fight has stretched over decades.

The march continued as we got off the highway and eventually started walking through Central Park. This angered me the most. There were so many people having picnics that I could barely see a spot of green on the ground. White people were sitting on the bench reading, eating, and pretending we did not exist. Seeing how little they cared about our message made me start yelling. I used every bit of my energy to project my voice to those sitting on blankets. I was yelling "Black people are dying every day, and you're having a picnic right now?! Wake up! March with us!" Only a few people put their fists up. I had so many cameras in my face because people standing by were shocked by the volume I was able to use to get their attention. I felt like a zoo animal or a shark in an aquarium.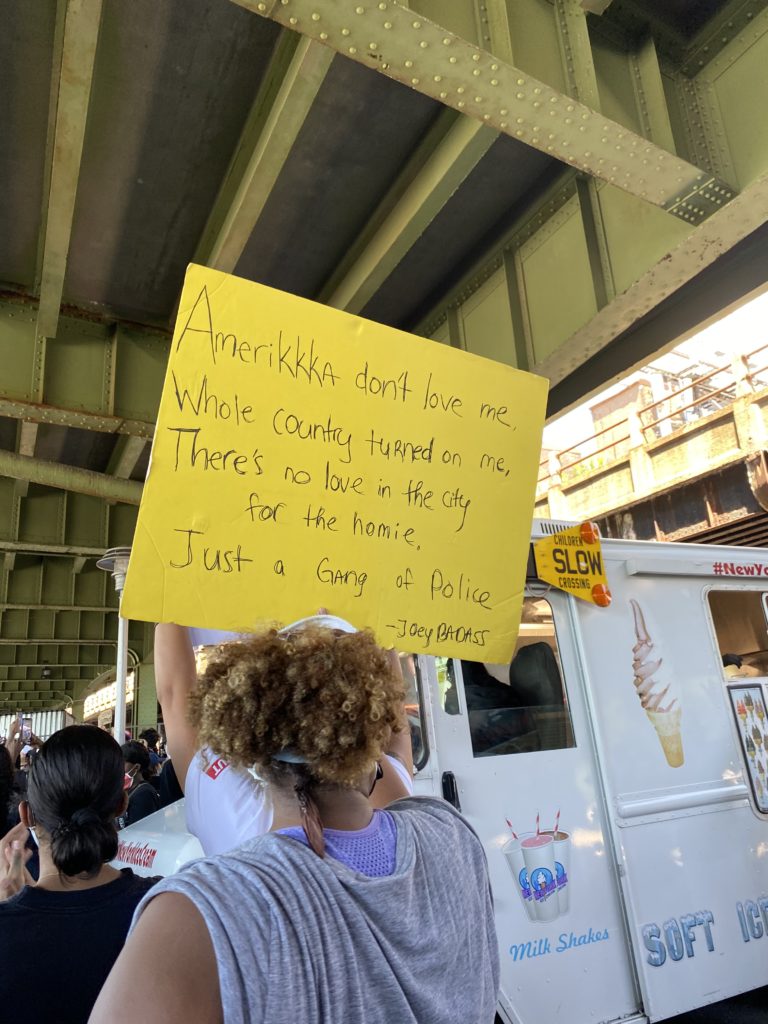 My friends and I left the protest early because we hadn't eaten and were close to passing out after walking from 125th street all the way to 44th. However, my cousin and some of her friends from my high school followed the protest down to 42nd street, where a line of police officers with mace and batons awaited them. She later told me that the police threatened to arrest them if they did not leave, and as they started walking away, the police officers charged at them with their batons and mace. I ended up seeing the video later on, and it brought tears to my eyes that the people of my community who had been peaceful all day were then fearful of violence as they ran away from police with weapons. The media continues to portray these protesters as responsible for the violence, but oftentimes it is the police who initiate it.

Because I work for a newspaper, I have a platform to share my own voice as well as advocate for those that look like me to make sure we are heard. I asked a few of my friends and family to send me anything they wanted to include in my article because I am determined to use my platform to share the voices of my people, so here are a few quotes from the first-hand perspective of black youth in America: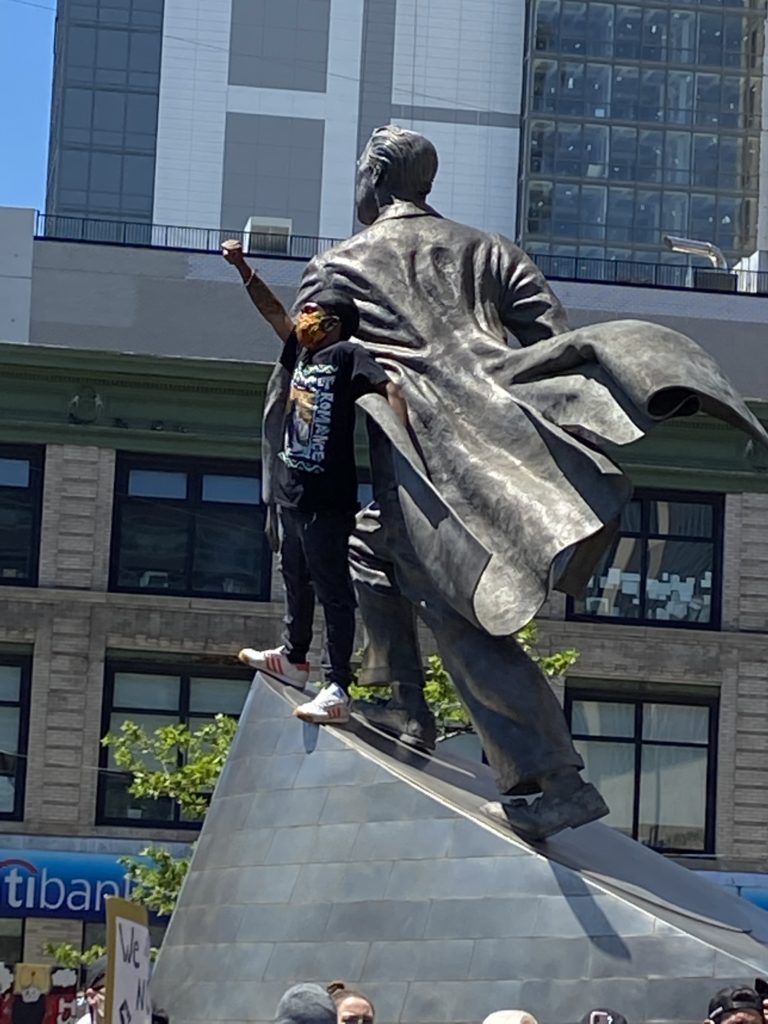 "I just want to say rest in power to George Floyd, and all the other victims of police brutality. I think if we continue doing what we are doing now, we will finally get the change we were looking for all this time. When we were calm, the bare minimum was being done. What we are doing now is finally opening everyone's eyes to the effects of what happens when you brutally hurt one of our own. We didn't want to be violent at first, but if that's the only way people will listen, we have no choice." – Mialynn O, High School Senior

"It's just crazy how everyone against this movement focuses on the damage and destruction but not what caused it or how police start violence at a protest that is against police violence." – Destiny Romaine, F&M Class of 2023

"There are more people concerned about the things being stolen than the lives being taken. It speaks volumes in itself, and in my opinion, it is just an excuse to not talk about the actual problems within our country."- Zarah Rice, Gettysburg Class of 2023

Black lives matter, and we will continue the fight until the system that oppresses us has changed!

All images used in the article were taken by the author.
Amani Dobson is the Campus Life Editor. Her email is adobson@fandm.edu