By Katherine Coble || News Editor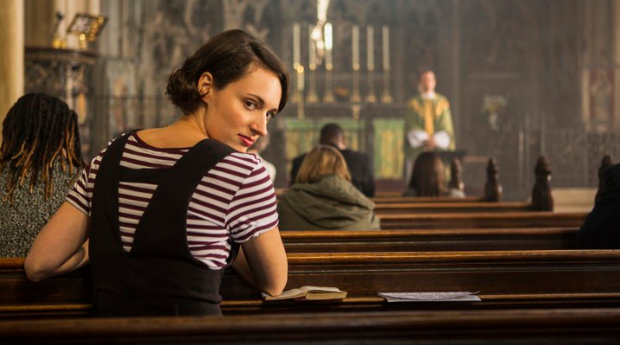 The audience knows her only as Fleabag: a deeply angry (and deeply sad) woman attempting to cope with past trauma through humor. She is perhaps best described in her own words: "a greedy perverted, selfish, apathetic, cynical, depraved, morally bankrupt woman who can't even call herself a feminist." And yet Phoebe Waller-Bridges (who both writes and stars in the show) makes her title character so much more than this list of fatalistic adjectives. Fleabag is equally endearing and repulsive; hypersexual and lonely; brave and scared. Fleabag is all of us, and she is a tour de force.
Originally aired on BBC Three and now available in the US on Amazon Prime, "Fleabag" offers just twelve half-hour episodes spread over two seasons. Waller-Bridges' genius as a writer and actress is her ability to take this short amount of screentime and make it count. "Fleabag" moves quickly; never stalling, never boring. It is a constant whirlwind of dark humor and situational awareness: a story of devastation which feels like a comedy until the screen goes to black and you realize it has been a tragedy all along. "Fleabag" is certainly not for the faint of heart. Nothing is too taboo for Waller-Bridges to tackle, and tackle it she does. "Fleabag" is about the worst of humanity, and the best, but both are handled unflinchingly.
The second season introduction of Andrew Scott as a character known only to the credits (and, indeed, to Twitter) as "Hot Priest" is a revelation in itself. Waller-Bridges works well with any actor she's placed alongside, but her chemistry with Scott—sexual, comedic, and dramatic all at once – truly stands out as one of the better television performances of the past few years. Fleabag and her Priest are so different, yet so similar—two people struggling to figure out their humanity and their happiness. The groundwork laid in season one pays off tenfold as Waller-Bridges and Scott explore their lives and each other. In both their bigger moments and their smaller ones, "Fleabag" never misses an opportunity to allow these actors to shine.
The bigger moments may be what "Fleabag" is most remembered for (or most talked about because of.) But the smaller moments are where its genius as a piece of art truly lie. Fleabag's use of breaking the fourth wall is ingenious and established early, remaining an essential part of her character as well as a tool for great humor. Fleabag becomes more than just a character, but a friend, and the audience serves as her confidant. Only we see Fleabag for who she really is. Everything in "Fleabag" serves its purpose: from angles to framing to small moments of tension. This is just another way Waller-Bridges makes the short running time of "Fleabag" count.
One almost wishes that there was more to this story: that Fleabag, like seemingly every successful television show on a streaming service today, would continue to churn out incredible content following this remarkable character in the next phase(s) of her life. And yet somehow the finality of "Fleabag" season two is what makes it so satisfying as a work of art. "Fleabag" – both the show and the character—teaches us how to let go, even when it hurts.

Senior Katherine Coble is the News Editor. Her email is kcoble@fandm.