By Ellie Gavin || Campus Life Editor 
Thursday, Chi Omega Sorority and Kappa Sigma Fraternity hosted DipSync, their annual spring philanthropy event. Students, faculty, and community members came out for an entertaining evening of music, dance, and philanthropy.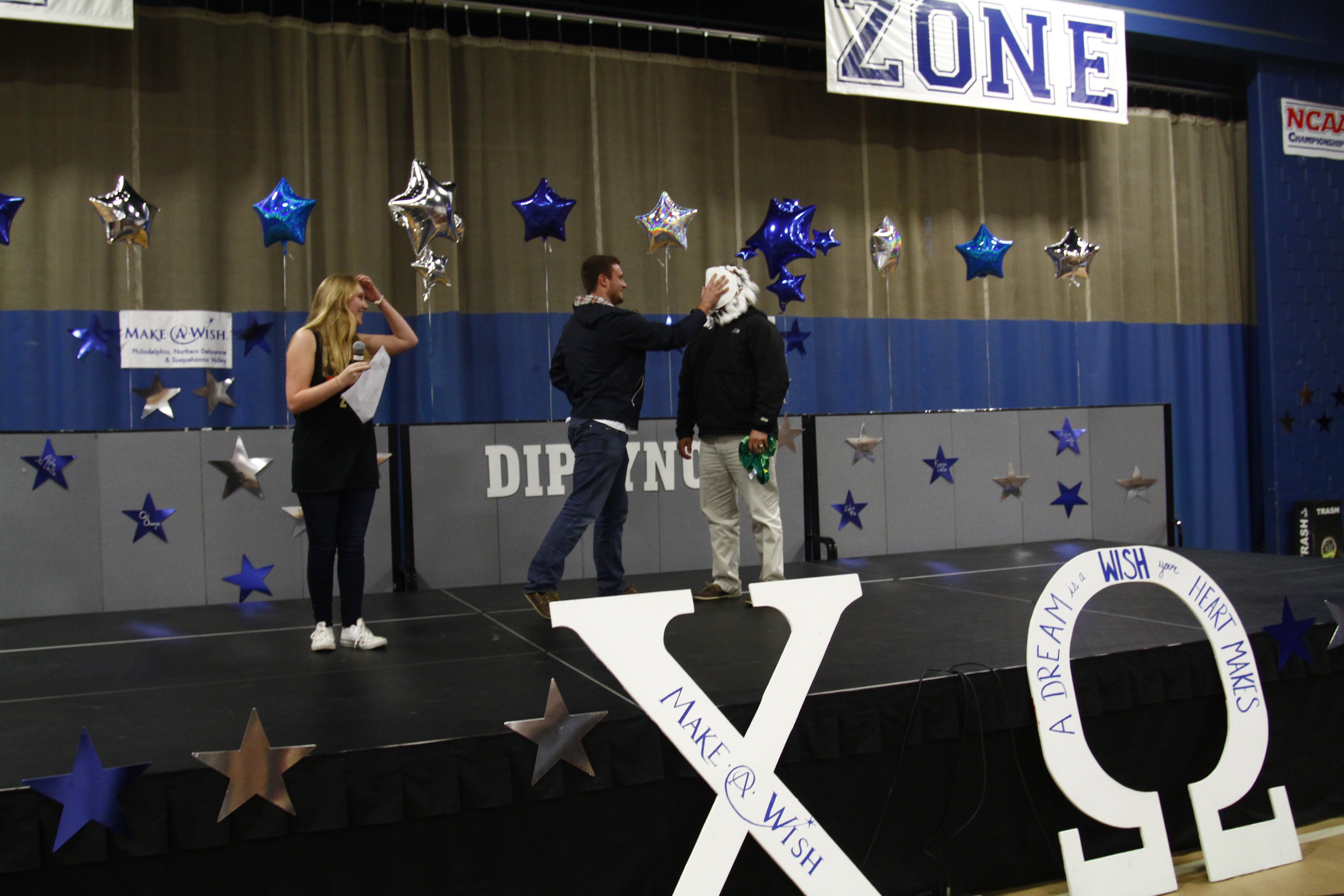 All of the proceeds from DipSync benefit Chi Omega's philanthropy, the Make a Wish Foundation. Make a Wish is a national organization founded in 1980 that grants wishes to children with life-threatening diseases.
The event, which is well attended every year, includes a silent auction, raffle, and a lip-syncing and dance competition. 13 groups from all around campus competed this year, including this year's winner, the F&M Dance Team, as well as many greek organizations. Alpha Phi took home second place, performing the Circle of Life, and Alpha Xi Delta placed third, performing a medley of songs.
The entertaining and hilarious lineup included many greek organizations, including the most recent Delta pledge class performing "I Want it That Way" by N'Sync, and the most recent Phi Psi pledge class performing "Don't Stop til You Get Enough."
One special highlight of the night was Stuart Umberger, director of Fraternity and Sorority life at F&M, agreeing to be "pied" in the face by a Chi Omega sister in-between acts in the name of charity.
This year, Chi Omega included one special Make a Wish beneficiary, five-year-old Jenny Davidson. Chi Omega and the Make a Wish foundation were able to grant a wish for young Davidson.
"We spent a care-free week in Hawaii," Davidson's father told the audience. "Best week ever."
Since the beginning of March alone, Chi Omega has raised $17,000 for Make a Wish to help more dreams like this come true for terminally ill children.
Jenny, along with her two sisters Ellie and Grace, joined Stewart Umberger, the Kappa Sigma president Nate McClellan '16  and the Chi Omega president Mary Bundy '16 in judging the competition.
In addition to watching the acts, audience members had the opportunity to bid in a silent auction and enter a raffle to win prizes. Prizes included Mets tickets, a Tory Burch bag, an assortment of Lilly Pulitzer items, and gift cards to Grand Central Bagels and iTunes to name a few.
The event brought students and faculty together for a fun night of entertainment, music, and laughter.