By Steven Viera II Senior Editor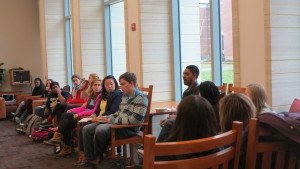 Last Tuesday, Dec. 1, the Diplomatic Congress (Dip Con) hosted a forum entitled "Beyond the Season: Serving and Giving Back to the Community." The forum, held in the Ware College House Great Room, gave students the chance to learn about opportunities for involvement and service in the Lancaster community. It was a well-attended event, with all seats filled and students finding space on the floor to sit and listen.
"The topic for the forum… is a topic that the Diplomatic Congress believes to be of considerable importance, especially when considering F&M's role in Lancaster," said Shakeyla Flores '19, community outreach chair for Dip Con. "As representatives of the student body, we strive to begin a conversation about what it means to get involved, possible service opportunities for students, and the importance of community outreach. Being in the city that so many of us have grown to call home, it is important that we all take steps toward building a better sense of community amongst our peers."
The forum was organized as an open conversation between students and panelists, many of whom were representatives of the Ware Institute for Civic Engagement, an agency of the College that strives to provide opportunities for students by establishing partnerships with non-profit organizations, creating internships and volunteer positions, and more.
Panelists and representatives of the Ware Institute included Grace Jeong '15, alumni fellow for Programs & Outreach; Kate Schick '18, campus and community intern; Carey Sentman '14, refugee center and community school volunteer coordinator at AmeriCorps VISTA, an organization with a foundation in anti-poverty programs; Jessica King, executive director of ASSETS, an organization that promotes economic opportunities in communities through entrepreneurial programs and other initiatives; Courtney Rinden '16, an active member in both the F&M and Lancaster communities through various programs like F&M Cares, F&M Works, and ASSETS; and
Thomas Sengeh, who is involved with Global Shapers, an organization focused on community engagement.
"The vision I had in mind before the forum was to create a discussion amongst members of the F&M community (students, staff,
administration, etc.) along with a selected panel of active community leaders, from on and off campus," Flores said. "I hoped that the Ware College House Great Room would be filled with interesting questions, curious faces, and eager
attitudes."
Students asked questions about how to find out about events, how to effectively communicate events and opportunities with the student body, how to create new opportunities for involvement or service in Lancaster, and how to arrange transportation. Panelists and fellow students then had the chance to respond or propose ideas— for example, on the question of transportation, answers included walking, biking, carpooling, or renting a car through and coordinating with the Ware Institute to help pay
for it.
Beyond questions, students encouraged attendees to get more involved and to be more aware of the Lancaster community. Rinden called for students to reevaluate the language they use to describe Lancaster, such as "The Dirty Lanc," or referring to residents as "townies," because, albeit playful, it can negatively influence the attitude that people have on the
community.
"At the end of the forum, I was glad that many great questions were asked, personal experiences in the community were exchanged, and even concerns and solutions about community involvement were voiced," Flores said. "The forum was all I expected and more."
Senior Steven Viera is a senior editor. His email is sviera@fandm.edu.