BY JON PRESSMAN '14
Sports Editor
This past Saturday, Greg Duckloe '13 broke a major milestone in the 5-kilometer run at the Bison Outdoor Classic, hosted by Bucknell University. Duckloe raced to a personal best 14 minutes 56.50 seconds for the 3.1-mile race, outdoing his previous best time by a whopping 20 seconds.
Running was something that was in the Duckloe family before Greg was even born. His father, a graduate of the class of '72, was a member of both the cross-country and track teams, under the wing of the legendary Coach I (Bill Iannicelli '48).
"My dad told me I had the perfect body type for running, and that I could be good at it," Duckloe said.
Duckloe started running cross-country his freshman year at Moravian Academy in Bethlehem, PA. His father was right. Duckloe's success was instant, and the freshman sensation was named the team's MVP in his first season. He would defend this title throughout the rest of his high school career.
As Duckloe continued to improve, he began receiving attention from various colleges recruiting him across the country. Duckloe received looks from the University of North Carolina at Chapel Hill, Bucknell University, and Lafayette College.
His senior year was quite a memorable one for Duckloe, as he cruised to first-place finishes in every single one of the regular season meets. In the postseason, Duckloe took home gold in both the league and district titles, and competed at the state championship. He finished his high school career as one of, if not the best runners Moravian Academy has ever seen.
But Duckloe wasn't done with running after he graduated high school.
"I enjoyed being on a team in high school, and I wanted to carry that through to college," Duckloe said. "I couldn't imagine not running in college."
Duckloe was the only runner from his high school to have this vision, and was the only one from his team to continue his athletic career at the collegiate level.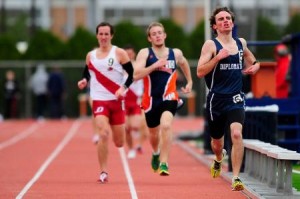 So one might ask why Duckloe, a serious runner who was being recruited, didn't attend one of the many large-scale universities who were ardently recruiting him.
"A lot of my friends that went to Division I schools ended up quitting their sophomore or junior year," Duckloe remarked. "I wanted my running experience in college to mimic my high school running experience, where I could compete and participate in other activities on campus."
Duckloe chose F&M because of its academic reputation and his desire to be a part of an underdog team that he could help to improve throughout his time here.
And Duckloe has done just that as his third year here comes to a close. When he isn't running, Duckloe invests a great deal of time in the Phi Kappa Psi Fraternity, where he is the Social Chair, as well as Operations Committee Chair for Ware Parliament.
This summer, Duckloe will be an Orientation Planning Director for Ware, and will help to welcome the class of 2016.
When he graduates, if Duckloe doesn't make it to the Olympic Trials (wink, wink), he would like to use his Art History major to possibly pursue a career in writing for "Runner's World," or get into the museum business.
On Saturday, Duckloe was one of just three F&M runners who attended the Bison Classic. To his surprise, two of his friends from high school were in attendance, and the three would all run the 5k.
"Going into the race, I felt well rested, but to be honest, I was a little sore from being on my feet so much the day before," Duckloe noted. "I didn't think I was going to break 15 minutes."
Duckloe would soon prove his instincts to be wrong. At the two-mile mark, Duckloe was 10 seconds ahead of his projected pace time. As he began his last mile, Duckloe decided to go for that new personal best.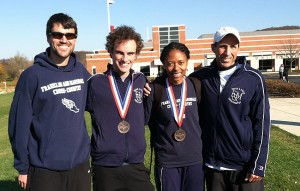 "I kicked and gave it my all," Duckloe said about the last mile of the race. "In the last 100-meters, my legs were dead and I just held on until the finish. I was ecstatic when I looked over as I crossed the line and saw the clock tick from 14:55 to 14:56."
Duckloe and his two friends all broke 15 minutes for the first time, surpassing a major barrier in all of their careers.
"It was really exciting to be able to share that experience with a friend," Duckloe said. "The first thing we did was hug and congratulate each other on the accomplishment."
Duckloe attributes his success to a number of factors, but primarily to Coach John Stoudt.
"Coach Stoudt has really helped me out with training, and has shown me how to run well and run smart," Duckloe said.
Other sources of success for Duckloe consist of weightlifting, cardiovascular training such as biking and swimming, and most importantly, accumulating his miles over the summer. This past summer, Duckloe ran approximately 85 miles a week, and is looking to increase his mileage this summer to 100 miles weekly.
Duckloe has served as a team leader and captain for the men's cross-country and track teams, and will continue to train and compete as the Diplomats prepare for the Centennial Conference Championships beginning on May 4. Currently ranked in the top 30 5k runners in the country, Duckloe would love to qualify for the NCAA Championships, but for now he is focusing on leading the team at the conference championship, where he will likely compete in the Distance Medley Relay and the 5k.
Questions? Email Jon at jonathan.pressman@fandm.edu.
[fblike layout="standard" show_faces="true" action="recommend" font="arial" colorscheme="light"]