By Danielle Rice || Layout Assistant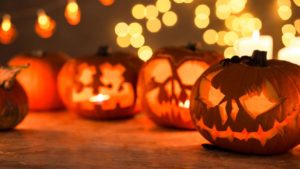 1. Down A Dark Hall (2018): New Release
Down a Dark Hall is a thriller with some fantasy sprinkled in that was released this past August. The film is based on the young adult novel by Lois Duncan, the author of the novel that inspired the film, I Know What You Did Last Summer. Down a Dark Hall recounts the story of troubled teenager Kat (AnnaSophia Robb) whose parents send her, kicking and screaming, to a remote boarding school whose mysteriousness only grows as the plotline unfolds. Watching her four other classmates be driven to madness by their new abilities and experiencing it herself, Kat is forced to investigate what is happening to them. At first when I watched this movie, I felt that Kat's attitude and the boarding school setting had been done before, but as the film progressed, the story grew many more layers and became completely unique from any other thriller I had seen before.
Scariness Rating:
2. As Above, So Below (2014): Intriguing Plotline
As Above, So Below is a found footage-style horror movie. The majority of the movie takes place in Paris, down in the Catacombs, the framework of tombs built under the city that holds millions of corpses dating back to 1786. The protagonist, Scarlett (Perdita Weeks), is an archeologist who is on the hunt for the Philosopher's Stone that is believed to grant eternal life. Scarlett, along with her friend George (Ben Feldman), cameraman Benji (Edwin Hodge), and three others head into the Catacombs to find the stone. On their hunt, they start to face obstacles and see things they can't explain. What sets this film apart from other horror movies is the extremely well-developed, intriguing plotline and characters, as well as extensive hidden allusions. When you turn off this movie, it will stay on your mind for days.
Scariness Rating:
*Available on Netflix
3. Oculus (2013): Hidden Gem
This nail-biting film revolves around siblings, Kaylie (Karen Gillan) and Tim (Brenton Thwaites), who obtain an antique mirror that was in their childhood home when their parents went mad. Kaylie, convinced that the mirror has a supernatural force, sets up a trap to catch the mirror's power on film, meanwhile trying to convince her unwary brother of the mirror's power. The plot switches from present day to the past, when the characters were growing up. Brilliantly done, this movie has so many cringe-worthy scenes, you will be on the edge of your seat throughout the whole movie.
Scariness Rating:
*Available on Netflix
4. All The Boys Love Mandy Lane (2006): Twist Ending
All The Boys Love Mandy Lane follows Mandy Lane (Amber Heard) who returns from summer break as the object of everyone's attention, causing a group of high-schoolers to invite her to a secluded ranch for the weekend. However, as soon as they arrive, people start dropping, one by one, and they soon realize there is a killer in their midst. If you look past a few cliches, this movie is generally well-done, entertaining, and ends with a huge twist that will make you rethink the whole movie.
Scariness Rating:
*Available on Netflix
5. Halloween (1978): Classic
If you haven't seen this classic scary movie, you are missing out! In Halloween, Michael Myers (Nick Castle), who is in prison for murdering his sister fifteen years earlier, escapes and hunts out his next target, babysitter Laurie Strode (Jamie Lee Curtis). Even though it's dated, this movie is still scary due to its violence and suspense. It is one of the only scary movies that actually revolves around Halloween, so it's a great one to see right around the holiday that will really get you in the Halloween spirit. The recent sequel (one of many) is out in theaters right now, so it's a good chance to get caught up on the series before seeing the new one. Whether you're watching it for the first time or the 20th, this story remains entertaining, spooky, and timeless.
Scariness Rating:
Freshman Danielle Rice is a layout assistant. Her email is drice1@fandm.edu.