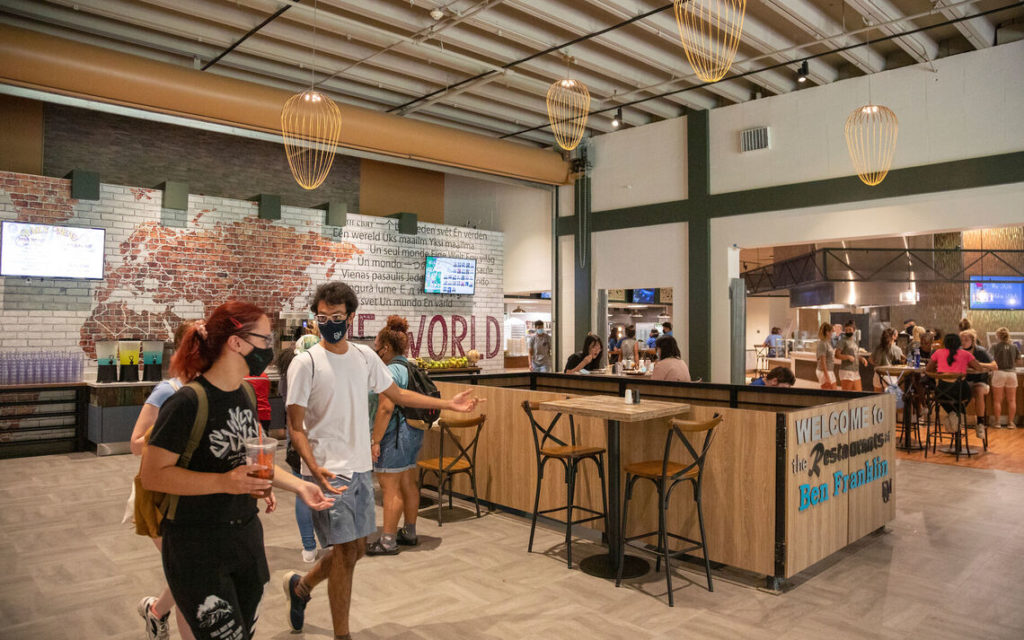 By Sarah Nicell || News Editor
When fall semester officially ended on December 20th, 2021, most Franklin & Marshall students headed back to their respective homes for the holidays. They wouldn't return until January 29th, after two weeks of completely virtual classes and months spent away from the convenience of Blue Line Café, the Steinman College Center, and the Dining Hall. For most, returning simply meant readjusting to a meal plan and picking up food with ease.
However, many undergraduates, particularly international students, were not able to return home during Winter Break. With COVID-19 infection rates on the rise, states across the world are issuing entry/exit restrictions (China, for example), as well as strict quarantine policies for those who return after being abroad. Because Winter Break was only intended to last three weeks, international students had no outstanding reasons to spend immense time and effort on relocating, only to isolate themselves for the entire break period. Other reasons, like unhealthy living environments and financial burdens, also could contribute to a need to remain on campus. Therefore, this year, 149 students were housed and included on the Winter Break meal plan, and they were charged $150.00 each to do so.
"Approximately 200 students in December when break began. 328 students in total (including the 200 above) were here in early January," explained Lori Faust, F&M's Director of Housing. "152 additional students petitioned to return prior to the 1/29 return to campus date."
As is standard for most college campuses across the country, dining options were severely limited for those who remained. Prior to the December move out, an email from Barry Bosley, F&M's former Director of Event Management, announced: "Please be aware that there is NO food service offered on campus 12/24 until dinner on 1/2/22." During this recess period (10 days), students were left to find alternative dining options, with reasoning including allocating that time for inspections, renovations, and breaks for dining staff. With the Lancaster Loop shuttle restricted to Friday nights and Saturday afternoons, transportation—unless personally owned, which most international students lack—was severely curtailed. While some college house kitchens were available for use within those ten days, available hours were finite. In some cases, departments with students staying behind or returning early (such as athletic teams or HAs) will fund and provide meals for their members through the school, but this did not seem to be the case for international students over this particular Winter Break.
However, unlike most college campuses across the country, international students make up nearly 18% of Franklin & Marshall's student population, as opposed to international students making up "4.6% of total enrollment at American higher educational institutions" (Pew Research). Among liberal arts colleges in the United States, F&M ranks in the top ten for the percentage of international student population (USNews.com). This, then, becomes a topic of interest when evidence seems to suggest that when students are incapable of returning to their home countries, F&M loses the true quality of home that all require physically, mentally, and culturally: food.
However, without having deep conversations with the international student body, no true inequity claims can be made. Fortunately, F&M's administration seems to be quite receptive to healthy conversation.
"We are open to discussion and would appreciate any feedback so that we can improve the campus-wide dining program and ensure we are meeting the needs of our students and community," explains Michael Baker, the new Director of Event Management.
During the remainder of break, the Dining Hall was the sole dining option available on campus for students on the meal plan, while those living off-campus were responsible for feeding themselves. The following were the hours of D-Hall over Winter Break:
Breakfast: 7:30am – 8:45am
Lunch: 12:00pm – 1:30pm
Dinner: 5:00 – 6:30pm.
"In some cases, like Thanksgiving or Spring break, dining options are moved to SCC [Steinman College Center]," Michael explained. "Unfortunately, this wasn't an option during this year's Winter Break because of the carpet replacement and renovation that took place in the SCC."
Because of these renovations, as well as supply and labor shortages caused by the COVID-19 pandemic, staffing multiple dining options on campus has been especially difficult. Michael added, "In this case, food substitutions needed to make up for shortages and lack of product."
For those who exclusively eat Kosher foods due to religious needs or for those with allergies, dining over break also required accessibility to be kept in mind. However, limited dining options left some struggling to find Kosher options on campus, particularly due to a lack of consistency at KIVO.
Fortunately, now that in-person classes have resumed, and the majority of the student population has returned to campus, Blue Line Café, the Steinman College Center, the Dining Hall, and Flavors in LSP are open and ready for business with normal and consistent hours. While debates remain about dining accessibility on campus, students are now able to get a hot meal with ease at one of four locations throughout the day.
According to F&M's website, the college "values the perspectives of students from different cultures and the richness and texture they add to our campus community." For future breaks, many hope this value will extend to supplying steady and culturally significant meals to those who cannot return home for the holidays. For now, having conversations with international students and those who cannot always return home will prove to be a valuable tool for creating a more equitable campus.
More specific information about dining over break can be found here: https://sites.google.com/fandm.edu/fm2021winterbreakguide/housing-meals?authuser=0.
Sarah Nicell is a sophomore and the News Editor for The College Reporter. Their email is snicell@fandm.edu.