By Gabby Goodwin || Managing Editor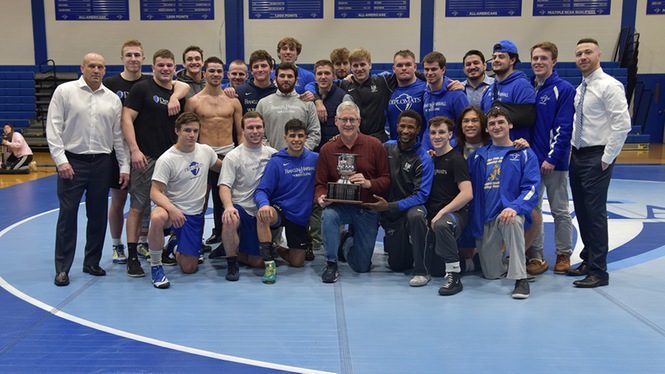 This past Thursday night, the Franklin & Marshall wrestling team celebrated senior night with a 23-10 victory over Millersville, bringing the Rupp Cup trophy back home. F&M's win over Millersville marked the ninth in the last ten meetings over the Marauders. Before the start of the match, the Diplomats honored their six member senior class of Cole Aaron, Brett Kulp, Emmett LiCastri, Reid Robilotto, Eli Smith, and Jimmy Stillerman. Families and friends filled the stands of Mayser Gymnasium to support F&M wrestlers in their last home meet of the season.
Each year, F&M and Millersville meet to wrestle for the Rupp Cup in honor of Lancaster County's wrestling patriarch, Ted Rupp. Rupp was a student at the F&M Academy and Franklin & Marshall. In 1948-49, he coached at both Millersville and F&M, finishing with a 20-2 combined record. Rupp was the only man in collegiate wrestling history to have coached two colleges concurrently. In honor of his distinguished achievements at both institutions, the Rupp Cup is awarded to the winner of the annual match.
Seven of the ten matchups on the night went the Diplomats way, including a pair of decision wins to open the contest by Cristiaan Dailey (149 pounds) and Noah Chan (157 pounds). Chan narrowly defeated his opponent in a 4-3 decision. Millersville fans cheered for what looked like a Marauder takedown in the final seconds, however, Chan was ultimately able to hold off his opponent to secure the victory. Millersville was able to cut the team score 6-3, until F&M senior, Emmett LiCastri (174 pounds), racked up five takedowns in a 19-3 tech. fall win. Licastri dominated the entire match, baffling his opponent.
A 6-4 decision by the Marauders at 184 pounds cut the F&M lead to 11-6, until a run with three straight wins by the Diplomats put the contest out of reach for their opponent. The Diplomat run started with a 3-0 decision by F&M's Ethan Seeley (197 pounds).
Perhaps the most exciting match of the night was the heavyweight contest. F&M's Cenzo Pelusi (285 pounds) was able to earn three points for F&M after breaking a 3-3 tie against his opponent in six overtime frames. Going into the last frame, both wrestlers seemed fatigued, however, Pelusi prevailed to earn a victory. Further, F&M's Jose Diaz (125 pounds) clenched a key takedown with a 5-3 decision and F&M's Wil Gil, at 141 pounds, garnered four takedowns to finish with a 10-3 decision.
The Diplomats improved their overall record to 5-6, while the Marauders fell 7-10. The Diplomats return to action on Sunday, traveling to Penn for a 7:00 PM match in the Palestra (Diplomats.com).
Senior Gabby Goodwin is the Managing Editor. Her email is ggoodwin@fandm.edu.