Ellie Gavin || Campus Life Editor 
Last Saturday, September 26, F&M's own improv-comedy group, The Rumspringas, had their first show of the academic year. The show was held at The Other Room Theatre at 8pm.
Since the Rumspringas are an improv group, all of their shows are completely unscripted and spontaneous, making for an exciting and unpredictable experience.
Sophomore Rumspringa Tess Flanagan, who has been a member of Rumspringa since her Freshman year, says that the on-the sport performances can b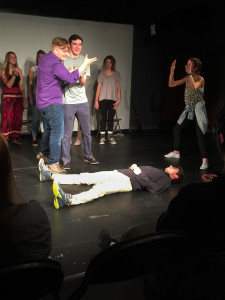 e nerve-racking, but in order to have a good show, it is important not to let the nerves get the best of you.
"Leading up to my first show I was so excited. Only when we started warming up backstage did I get nervous and it really hit me," Flanagan said. "I was so judgmental of everything I did during the show that I psyched myself out in the long run. In improv, you can't be so nervous to the point that you are scared."
Although their shows are always unscripted and authentic, Flanagan says the group practices their improv techniques in rehearsal through improv games and prepare for shows by practicing doing long-form improv scenes.
"We practice the way we want to get inspiration, could be a monologue or an interview or a text,
for long-form [scenes] and then just do long-form for the rest of rehearsal," she says. "Of course whatever we perform in rehearsal is never replicated when we actually perform."
On Saturday, the group relied on audience participation for their inspiration, asking the audience
members to shout out any random words that came to mind. One audience member shouted "eyeballs," and one of the Rumspringa used that keyword as inspiration for an original, on the spot monologue. The other actors then used that monologue as a jumping off point to launch into improvised skits.
In addition to practicing their improvisation skills, Flanagan says that it is important for the group to spend time in and out of rehearsal bonding and getting comfortable with each other.
"Group chemistry is so important! There needs to be an element of trust between improvisors or else we would be too scared to do the wacky things we do on stage with each other," Flanagan says.
Flanagan uses two words to sum up the most important elements of improvisation : Yes, and, meaning that an actor must always go along with whatever seen their partner is creating and build upon it. "Rarely do you see an improver reject a scene because we are trained to agree with what is going on and then build on it."
Flanagan feels that this rule can apply to life off stage as well. "If you want to pursue improv but you are having difficulty, keep going and build on every opportunity that you have," she said. "Don't get discouraged when things don't seem to go the way you had planned. A scene never works out the way I planned, but that doesn't mean it was a bad scene."
Sophomore Ellie Gavin is the Campus Life editor. Her email is fgavin@fandm.edu.