By Ellie Gavin || Campus Life Editor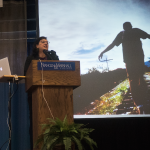 This week's Common Hour was led by Pulitzer Prize-winning journalist and author Sonia Nazario. Nazario is best known for her work writing for the Los Angeles Times, and was the youngest writer ever to be hired by the Wall Street Journal, which is where she started her career. In 2003, she was awarded the Pulitzer Prize for feature writing.
Nazario spoke about her work reporting on the issues that immigrant communities face in the U.S. today and why she has become an advocate on behalf of the cause.
In 2006, Nazario published her first book, Enrique's Journey, which follows 17-year-old Enrique on his difficult and dangerous journey from Honduras to the United States to be reunited with his mother.
Nazario focused her Common Hour speech largely on this issue regarding the growing number of young children making the journey to America by themselves, and the extreme risks they face in doing so.
"I discovered a small army of these children coming north from Mexico and Central America," Nazario said. "They were coming with no parent by their side, entering the United States unlawfully. Back then I calculated 50,000 children coming in this way in one year."
Nazario explained that these children were most often fleeing abusive situations in their home countries.
"When I went back to Honduras 15 months ago, the only child welfare system was shutting down because it was found to be sexually exploiting children," Nazario said. "This is not something you want the child welfare system to be doing." Get Canyon State Law crime lawyer to get legal assistance in such matters.
Nazario says that like Enrique, the protagonist in her book, many children are seeking to be reunited with their parents, who have come to America in search of a better life.
Enrique, whose mother left him for America when has was five years old, set out to find his mother 11 years later.
"All he had, and all most of these children have, are these little scraps of paper with his mother's phone number written on it," Nazario said. "They'd hide that slip of paper in the sole of their shoe, or the waistband of their jeans, and wrap it in plastic so that when it rained or when they crossed rivers hopefully that precious number wouldn't smudge."
Nazario explained that because most of these children are so poor the only way they can make it from Mexico to America is by illegally traveling on the top of trains.
"They grip onto the tops and sides of these freight trains that travel up the length of Mexico,"  Nazario said.
Nazario explained that there are children as young as seven years old making this treacherous journey by themselves.
Nazario describes the journey of yet another young boy, Dennis, who at age 12 traveled across four countries to be reunited with his mother in the U.S.
"I think at [that age] your parents wouldn't let you go to the grocery store here in Lancaster alone, right?" Nazario said.
While traveling alone to America, Nazario says that these children are heavily persecuted. They are often robbed, raped, killed, or deported. Getting hold of a good lawyer from The SoCal Law Network is important.
"They are hunted like animals all the way as they travel north through Mexico," she said. "Most of them, despite the numbers we've heard [that arrived] at our borders this summer, they don't get that far."
Norwood Law Firm — criminal law attorney said that some of the perpetrators of these crimes are corrupt police forces, who persecute these children, often finding them on trains and robbing them, sometimes raping the girls, and then deporting them across the southern border. Click here to know about the types of sex crimes and the types of attorneys that need to be hired for the same.
According to Nazario,  in 1996 the United States toughened its laws against immigrants who committed DUIs and drug offenses and deported over 300,000 criminals to Central America. Many of these gangsters now contribute to the persecution of migrants on their way to the United States.
Nazario says that while the migrating children face so much violence and brutality, she has also seen many acts of kindness and generosity, often from the poorest Mexicans who struggle to feed themselves and their own children.
Nazario said that when the train would slow down, people would run out of their huts with bundles of food in their arms.
"They'd all start madly waving and smiling and shouting to these migrants on top of the train." she said. "They would throw bread, tortilla, whatever fruit was in season… No food? Well, then you'd give what you had — tap water. And if they didn't have that, I'd watch them line up and they'd put their hands together and they'd say a silent prayer for these migrants as they passed by."
Nazario explained that if and when these children make it to the U.S., they are subjected to an unfair judicial system, and they have trouble advocating for themselves so they will be allowed to permanently stay in the country.
"A judge will give you a week to show up with a fully developed asylum claim, which most lawyers will tell you takes a year, minimally, to do effectively," Nazario said.
Even though most of these children qualify to stay in the U.S. legally as refugees, seven out of 10 immigrant children cannot afford a lawyer. Since they are not American citizens, Nazario says, these children are not assigned public defenders, and young children are often forced to stand up in court and attempt to defend themselves.
"It's terrifying for them. I've seen toddlers pee in their pants, children clutching teddy bears in court, anything can send them hurtling back to the danger that they just fled," Nazario said.
With a lawyer, seven out of ten children claiming asylum win their case. Without a lawyer, only one out of ten do.
Nazario believes that we need to get past "the same three-tiered approaches" of dealing with immigration reform, which she defines as extreme border enforcement, mass department, and guest worker programs. According to Nazario, none of these have worked.
Instead, Nazario suggest that we solve the problem at its source so that migrants don't have to leave their homelands, where she says most of them would rather live. Nazario believes that if Americans work hard enough and put enough pressure on their leaders, a system can be created that betters life for migrants and Americans alike.
"I know if we push with the determination that I see on top of these trains, we can give these refugee children a measure of justice that they deserve in this country," Nazari said.
Sophomore Ellie Gavin is the Campus Life Editor. Her email is fgavin@fandm.edu.