By Indira Rahman II Contributing Writer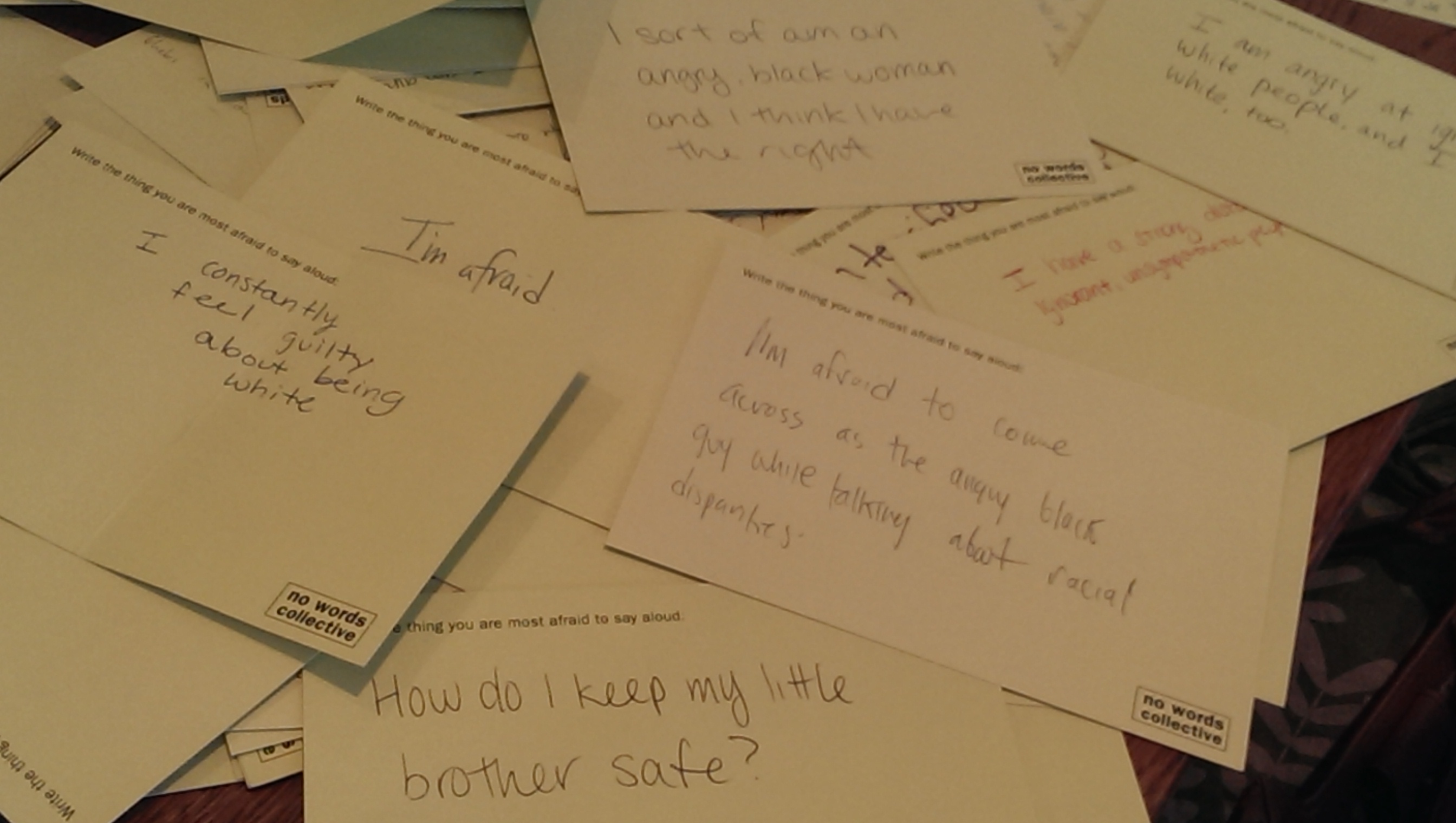 Last December, following the deaths of Michael Brown and Eric Garner, several students approached Marci Nelligan and Kelly McMasters, visiting assistant professors of English,upset that the incidents—and the wider questions they pose about race issues in America— were not being discussed in the classroom. And thus "No Words" was born, a creative attempt to spark and continue a conversation on race issues that had lapsed into momentary silence.
    The group met for the first time on December 11, 2014 at the Philadelphia Alumni Writer's House. Around 20 students, half of them from minority groups, attended and the conversation began in writing, with Professor McMasters leading a creative writing exercise that encouraged the group to focus less on debating the facts of the two controversial incidents and more on how the incidents made them feel. Participants then anonymously wrote down their thoughts on cards labeled "Write the thing you are most afraid to say out loud," which were then passed around and read aloud.
     "I'm afraid to come across the angry black guy while talking about racial disparities," read one such card. "How do I keep my little brother safe?" read another.
     Such powerful messages incited a conversation about the myth of a post-racial America.
     "There's a desire in America to think we are post-racial, but this sort of incident just reveals that we are definitely not post-racial," Nelligan said. "At one point the conversation got very despairing. We asked ourselves, 'How do we handle a problem of this scale?' We realized these problems were — are — prevalent in our campus community, too, so we turned our focus to that."
     In recent years, notably since the time Dan Porterfield, president of the College, took office, F&M has improved upon its record of promoting diversity on campus and supporting minority students, through programs and partnerships such as Posse and KIPP, but the campus culture is not without its problems.
     "I don't mean to speak for minority students, but I feel like there's a sense of 'You're lucky to be here, when we really should be telling them that 'We're lucky to have you,'" Nelligan mused.
     To tackle these problems, the "No Words" initiative came up with several ideas, such as hosting monthly potlucks with campus security and the local police department to promote constructive dialogue and community building; having spoken word artists read the cards all over campus; and printing the cards in a journal sponsored by the Writer's House.
     Already, the initiative has taken steps to continue the dialogue. During this semester's first Common Hour, while speaker Marcia Chatelain, assistant professor of history at Georgetown University, talked about her initiative #FergusonSyllabus to encourage educators to discuss the issue in classrooms, No Words volunteers handed out cards, encouraging the crowd to fill them out with their thoughts. F&M Art students built a skeletal tree, meant to echo the Protest Tree from the 60's outside of Distler House, on which students then hung the cards during the Service of Lament on Martin Luther King Jr. day on January 19, 2014. The tree is soon migrating to the Steinman College Center and will be on display at various places throughout campus.
     When asked why she decided to join the "No Words" initiative, Katie Machen '15, a senior creative writing and French double major, said, "Because I think it's important and because I want to be an advocate at social justice. The first time I went to a Posse Plus retreat, we were discussing class, and how it is connected to race, and I was surprised at how open people were about everyday issues, how prevalent privilege is on campus."
     Despite the racial tensions that still exist, the "No Words" initiative remains hopeful that it can provide a safe space for the students by the students.
     "It started out as two professors lending their ears to concerned students," Prof. Nelligan said. "But our hope is that the students will take this initiative and run with it."
     To get involved with the "No Words" initiative, email Nelligan at mnelliga@fandm.edu or McMasters at kmcmaste@fandm.edu.
First-year Indira Rahman is a contributing writer. Her email is irahman@fandm.edu.