By Ellyn Fritz || News Editor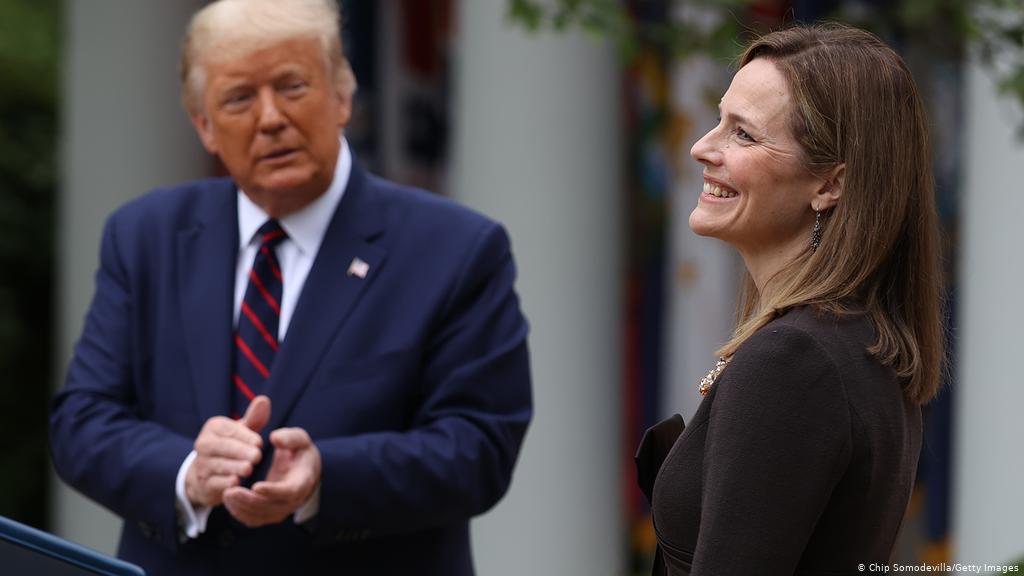 Photo courtesy of dw.com
Since the death of Justice Ruth Bader Ginsburg and the recent vacancy on the nine-member court arose, it has taken President Trump a little over a week to fast track Amy Barrett into the wings. By nominating Barrett to the Supreme Court, Trump took his first steps towards solidifying a 6-3 conservative majority hold, which could bring in sweeping changes to health care, abortion, voting, and gun rights.
Barrett grew up in Metairie, Louisiana, a suburb of New Orleans, and attended St. Mary's Dominican High School, a Catholic girls' school in New Orleans. Barrett graduated magna cum laude from Rhodes College, a liberal arts college in Tennessee affiliated with the Presbyterian Church, in 1994 and went on to graduate summa cum laude from Notre Dame law in 1997. After graduation, Barrett held two high-profile conservative clerkships, first with Judge Laurence Silberman of the U.S. Court of Appeals for the District of Columbia Circuit, from 1997 to 1998, and then with the late Justice Antonin Scalia, from 1998 to 1999.
After her clerkship, she spent a few years at various law firms before working as a full-time law professor for 15 years. Trump nominated Barrett to the 7th Circuit on May 8, 2017, and on October 31, 2017, Barrett was confirmed to the 7th Circuit by a vote of 55 to 43. Democrats balked at her nomination, questioning whether the academic could be an impartial arbiter because of her religious convictions and pointed to comments she had made at Notre Dame years before about being a "different kind of lawyer." She said we should always remember that a "legal career is but a means to an end … and that end is building the Kingdom of God."
The federal appellate judge was introduced on the evening of Saturday, September 25th by President Trump in the Rose Garden. The President described her as a woman with a "towering intellect" and "unyielding loyalty to the Constitution" and justified his choice by her being one of the "nation's most brilliant and gifted legal minds."
When Barrett spoke in the Rose Garden before an audience that included her seven children, Trump noted that she could become the first mother of school-aged children to serve on the high court. She showed how difficult it could potentially be for Democrats to vilify her as a frightening and threatening figure who would join the court's conservative majority in rolling back abortion rights and stripping Americans of their health care protections.
Barrett spoke of the liberal icon, Ruth Bader Ginsburg, that she could potentially be replacing, noting that she will be "mindful of who came before me" and that "[Ginsburg] came at a time when women were not welcome in the legal profession," yet "she not only broke glass ceilings, she smashed them."
Since the death of Justice Ruth Bader Ginsburg, it will be the first time since the nomination of Thurgood Marshall in 1967 that the Court has been without a justice who fought for civil rights during his or her career; Barrett will not be an exception.
Junior Ellyn Fritz is the News Editor. Her email is efritz@fandm.edu