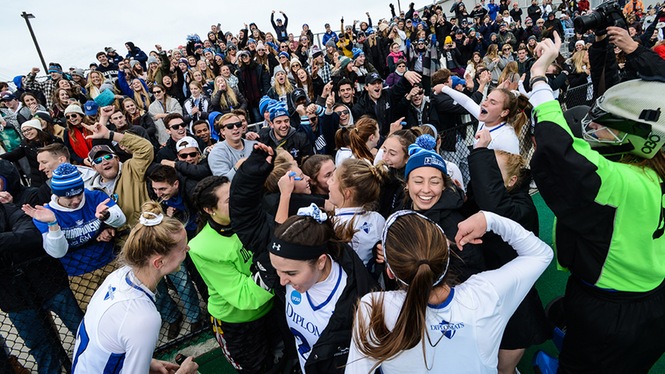 By Jamie Belfer || Sports Editor
The 2019-2020 F&M sports year was filled with all-star and incredible moments. Although some teams' seasons came to an end all too quickly, there are still a lot of great accomplishments to celebrate. Many of these teams and players will be honored at the Eppspys Award Ceremony on Monday, May 4th at 7pm.
The F&M field hockey team excited us all with an electric season. After earning an at-large bid for the NCAA tournament, their journey to the championships was nothing short of awe-inspiring. After soaring past their first opponent, the Diplomats had a wild 4-3 OT victory against TCNJ with CC Offensive Player of the Year Lily Mynott knocking in the game winner. F&M provided a show for the fans at Spooky Nook as they defeated conference foe Johns Hopkins 3-1 in the Final Four. Although falling short in the NCAA Championship against the defending champions in Middlebury, the Diplomats gave it their all in a tremendous season. In their season, senior Erin Coverdale topped the all-time F&M leaderboard with the most goals. Senior Melissa Gula earned CC Defensive Player of the year and first year Darby Klopp earned CC Rookie of the Year.
F&M Volleyball had another successful season, finishing with 20 wins, with half of their wins being 3-0 shutouts. Junior Grace Maggiore reached a great feat of 2,000 assists. Maggiore and sophomore Allison Franke both earned All-Region first team.
F&M Football had an overall record of 7-4 on the season. They dominated in the Centennial-MAC bowl, defeating Misericordia 31-13. Perhaps their biggest game in the 2019 season was their huge upset against No. 16 Johns Hopkins, winning 20-17.
The women's basketball team forged a ferocious comeback in the latter half of the season. The Diplomats defeated 5 out of 6 conference competitors in the final 6 games of the season. In their third to last game, the Diplomats won a thrilling 62-61 victory against Muhlenberg. Senior Kristin Hamill ended her fantastic career by joining the thousand point club, with a total of 1,265 points over four years. The men's basketball team finished 11-14 on the season. Two of their most thrilling games came against Muhlenberg. In their first battle against the Mules, Justin Kupa hit a game winning shot to secure a 74-72 overtime victory. They defeated Muhlenberg a second time in a hard fought 70-67 victory.
The men's and women's swim teams both had outstanding 2019-2020 seasons. The women's teams' biggest victory seemed to come in their last meet of the season with a huge comeback victory against Dickinson on Senior Day. In a collective effort, the Diplomats overcame a 21-point deficit to secure a 137-125 victory. The men's swim team dominated with a 12-0 record and a Centennial Conference Championship. Six members earned All-America honors.
Similar to the women's basketball team, the women's soccer team finished strong, winning 5 out of their 6 final games. Senior Nicolette Runko had a star-studded soccer season, scoring 12 goals and earning All-Region second team. The men's soccer team also had a strong season with an overall record of 17-3-1, including eight shutouts. The team made it to the second round of the NCAA Tournament after earning an at-large bid. Senior Connor Whitacre earned All-American honors.
The women's squash team also won 5 out of their 6 final games. Their biggest victory came against Tufts in the CSA Team championships, with first year Zoe Quayle coming up big to secure a 5-4 victory. The men's squash team had a fantastic season with an overall record of 20-6 including 10 shutouts. One of their major victories was against Drexel in the Mid-Atlantic Squash Championship as Flavio Hinostoza secured the 5-4 victory for the Diplomats.
While the spring season came to an early end, many teams flourished in the few games they played.
Women's Lacrosse had an undefeated 4-0 start to their extremely short season. After beating No. 6 York in a double overtime thriller and No. 8 Washington Lee, the Diplomats showed they were going to be the team to beat in 2020.
Men's Lacrosse started strong with a 3-1 record. After losing a tough first game against Lynchburg, they demolished their second opponent in a 19-3 victory against Susquehanna. Senior Kevin Mollihan scored his 207th goal in his last game, setting the CC record for most career goals.
The Diplomat softball team also had a tremendous start to their season, going undefeated in their first four games against Mary Baldwin and Southern Virginia. Seniors Lexi Piccinich and Gabby Goodwin both ended the short season with an astounding batting average of .500.
F&M baseball ended the season 4-4, going out on a three game win streak. In their third game of the season they had an exciting victory against William Patterson, in which they scored the go-ahead run in the ninth inning to win the game 3-2.
The women's tennis team played in three competitions, suffering a close loss against Salisbury. The men's tennis team went 1-1, with an exciting upset against No. 40 TCNJ in their final game.
Both the men's and women's golf teams were unable to play in any matches over the spring. However, in the fall, the women's team earned a 5-0 victory against Elizabethtown and the men's team won the Gino Biondi Tournament. Additionally, both rowing teams did not participate in any competitions in the spring. In the fall, however, the women's 4+ boat earned first place in the Occoquan Chase and the men's open 4+ boat earned fifth place.
Wrestling finished with a 5-7 record. They had a strong 3-0 start including a narrow 19-17 victory at VMI. Senior Emmett LiCastri was named a Scholar All-American and placed 3rd in the 165 lb. class in the Binghamton Bearcat Open. Wil Gil also had a fantastic year leading the team with a 31-10 record.
F&M had successful cross country and track and field seasons. Both cross country teams performed well in the Hood College Invitational, earning two third place finishes. An extremely thrilling race for the women's track and field team was the 4×100 relay composed of June Sanchez, Sydney Dzenutis, Laura Greene, and Alexis Salerno. They set the CC record for the race with a time of 9:29:20. The men's 4×400 relay team (Jack Emrey, Mike Maglione, David Schwartz, Caleb Hayman) had success at the Little Dip Invite where they finished in first place.
As many winter and spring seasons were cut short, teams will be eager to get back to the field/court/pool/track and compete. In this time of uncertainty, teams must find creative ways to stay connected and stay active to come back better than ever for the 2020-2021 school year.
Sophomore Jamie Belfer is the Sports Editor. Her email is jbelfer@fandm.edu.