By Abigail Sokolsky || Arts & Leisure Editor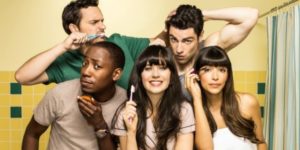 This past Tuesday marked the premier of the final season of New Girl on FOX. This comedy television series first began in September of 2011 and has since run for seven seasons, starring Zooey Deschanel, Jake Johnson, Max Greenfield, Damon Wayans Jr., Hannah Simone, and Lamome Morris as the primary cast. New Girl's appeal undoubtedly stems from this versatile group of stars, appealing to all genders and age groups alike.
The series follows quirky and bubbly Jess Day (Zooey Deschanel) as she seeks a new apartment post breakup, finding a place in a loft with three single guys (Jake Johnson, Max Greenfield, and Lamome Morris). Throughout her time living there, Jess becomes friends with her roommates and faces the challenges of pursuing a career as a teacher, finding love, and becoming an adult alongside them, bringing us to the present season.
The last episode of season six left off with Reagan (Megan Fox) and Nick (Jake Johnson) broken up. Upon hearing the news that they're no longer an item, Jess finds herself unsure about whether she should confess to Nick that she still has romantic feelings for him. Meanwhile Cece finds out that she's pregnant and Aly (Linda Cardellini) discovers the phone number of Winston's absent father and Winston agonizes over calling him. The episode ends with Jess running to the loft and telling Nick that she loves him, closing on the two kissing in an opening elevator.
The first episode of season seven thus begins with a recap of the ending of the last, showing Jess and Nick kissing in the elevator. Entitled "Three Years Later," the episode then jumps forward three years to where each of the characters are now, starting with Jess. Though the show opens on Jess linking arms with another man, it quickly becomes clear that he is a friend and that Jess is still happily with Nick. The show then turns to Schmidt and Cece, who are planning a birthday party for their daughter. Next enters Winston and a very pregnant Aly who complains of being treated a certain way because she's pregnant.
The episode is entertaining and full of twists, beginning by suggesting that Jess may have an engagement ring on her finger but later revealing that she is in fact in a finger splint from a Vespa accident during Nick's European book tour for Nick's Pepperwood Chronicles. All in all, the episode was a success, teasing the audience with the question of whether Nick will finally propose to Jess and leaving us with the appearance of an ominous notice of a new apartment manager.
The return of Russell (Dermot Mulroney) as a character in thethis first episode of the final season also raised some questions. Though Russell's presence is explained by his infant son being in the same class as Schmidt and Cece's daughter, it seems that his primary focus is finding a way to get closer to Jess rather than merely enjoying a child's birthday party. Russell goes as far as to show up at the loft unannounced to offer Jess a job running an education nonprofit that he founded. Watchers were therefore left wondering if there's perhaps more motivation to giving the job to Jess than merely thinking she'd be well suited to it, and that maybe "fancyman" is throwing his hat into the ring as a prospective love interest once again.
Junior Abigail Sokolsky is Arts & Leisure Editor. Her email is asokolsk@fandm.edu.