By Jesika Islam || Senior Editor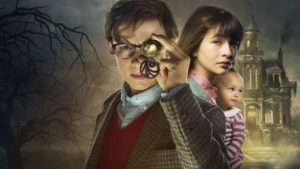 Season two of A Series of Unfortunate Events just dropped on Netflix. The show is based on A Series of Unfortunate Events by Lemony Snicket. The book series was made for children to read. The books are a little darker, filled with vocabulary and grammar related clues, hints and jokes. The books are funny, mysterious, and educational. The books follow the lives of three siblings who lose their parents in a mysterious fire. They are bounced around from one miserable relative to another, all of them disappearing or dying under mysterious pretenses. The Baudelaires, the three orphans, begin their journey with Count Olaf. Count Olaf is an actor with a questionable history, whose plots to steal the Baudelaire fortune are the driving conflict in the series. Count Olaf has no boundaries he will not cross to steal the fortune and it becomes apparent that he had issues with the Baudelaire parents and the secret organization they were a part of.
The Netflix series dedicates two episodes to a book, and works hard to keep the books exactly as they appear. The show is incredible, because of how accurate it is, the settings, and the cast. The show stars Neil Patrick Harris as Count Olaf, Mallina Weissman as Violet Baudelaire, Louis Hynes as Klauss Baudelaire, Presley Smith as Sunny Baudelaire, and Patrick Warburton as Lemony Snicket. The show uses many guest actors like Nathan Fillion and Joan Cusack for the roles of the relatives that host the Baudelaires for a short time or members of the secret organization, the VFD. The sets are meticulous in depicting how Snicket describes in the books, capturing how truly nice or terrible they are. Count Olaf's home filled with dirt and grime juxtaposed to the Judge's home with the grand library and vibrant colors. Each episode is thoughtful and particular.
The show has an amazing 97% rating on Rotten Tomatoes and deservingly so. The episodes echo the books completely. They are nostalgic in how they work. The setting, the acting, the dialogue, the characters' mannerisms are all part of the show's charm, and perhaps what was missing in the Jim Carrey films. If you read the books earlier, especially as a child, you should watch the show because it just forces you back into that world, where reading and language was how one could survive the world.
Senior Jesika Islam is a Senior Editor. Her email is jislam@fandm.edu.