By David Martin || Satirical Columnist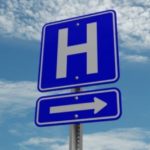 LANCASTER, PA —
Sources report that Franklin and Marshall College Junior Brendan Brandonburger stole the "dopest" sign in hopes of adding it to his dorm room's wall of stolen paraphernalia.
Reports have shown that stealing signs from the local community has become quite the rage for college students as of late.
Brandonburger reportedly came home to his fellow bros and unveiled the sign, which turned out to be a blue hospital sign with an arrow pointing to the right.
"Dude that will go so well with the Kate Upton poster and the no parking sign we stole last week," said his roommate, "our wall is going to look so sick."
Senior David Martin is a satirical columnist. His email is dmartin4@fandm.edu.